Oct 1, 2020 • 30M
Word Around the Campfire - Episode 1: Finding the voices of young Black activists in Louisville, KY
carefully crafted and curated words, stories and discussions about culture, race, identity, community and family from a family of Guesses. #WordsMatter, #StoriesMatter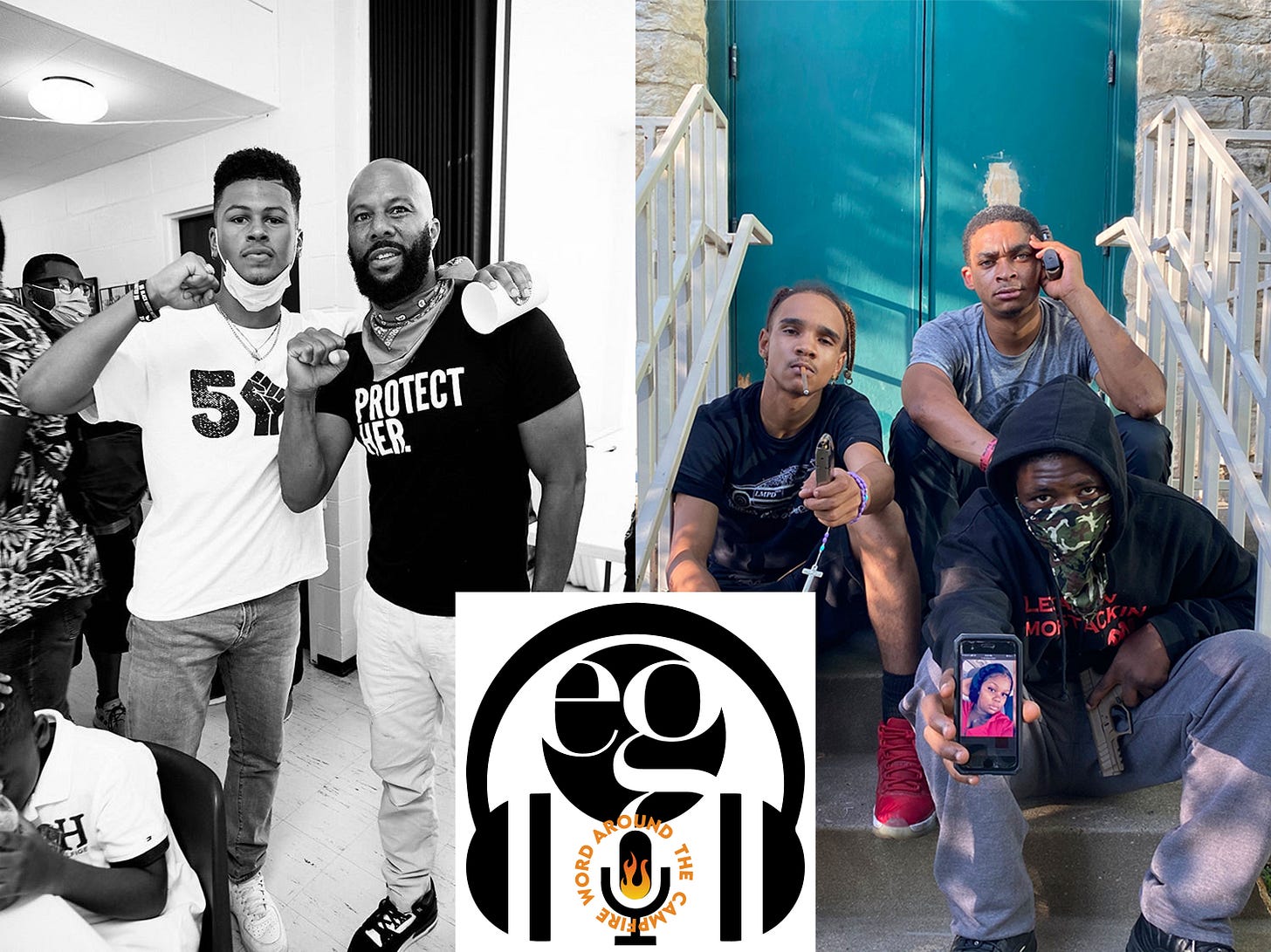 Left Photo (Sean Ali-Waddell and Common in Frankfort, KY), Right Photo (Clockwise from left: Snoop, Issa Fixit and B-Yola on the side steps of First Unitarian Church in Louisville, KY.)

This podcast is a companion piece to a commentary that I wrote for ESPN's The Undefeated, Finding the voices of young Black activists in Louisville, in reaction to Kentucky Attorney General, Daniel Cameron's investigation and grand jury process failure to to indict any of the three officers involved in the killing of Breonna Taylor on charges related to her death.
The podcasts profiles two young Black men who have had a big impact on the protests for justice for Breonna Taylor.

Ali-Waddell and Fixit come from different neighborhoods and different backgrounds, but their passion and purpose are the same - a better future for Black people in their city. Both are rappers. One sees his art form as the lane he will use to propel his passion towards his purpose, while the other has put his artistry on pause for the cause.
---
Music credits from the podcast:
Hip Hop Trap Beat - "Truth" by Curtis Harris from Storyblocks.com
The Movement Revisited by Christian McBride on Mack Avenue Records
The Ever Fonky Lowdown by Wynton Marsalis on Blue Engine Records
Links Mentioned in the podcast:
Sean Ali-Waddell's music video.
Social Media links for guests:
Issa Fixit - Facebook, Twitter and Instagram
Sean Ali-Waddell - Instagram
---
If you haven't already, please sign up for our mailing list or subscribe.

---