Discover more from educated guesses
carefully crafted and curated words, stories and discussions about culture, race, identity, community and family from a family of Guesses. #WordsMatter, #StoriesMatter
Still We Rise - NBA Star Michael Kidd-Gilchrist
An interview with former University of Kentucky and current Dallas Mavericks basketball player about his resilient journey in dealing with stuttering.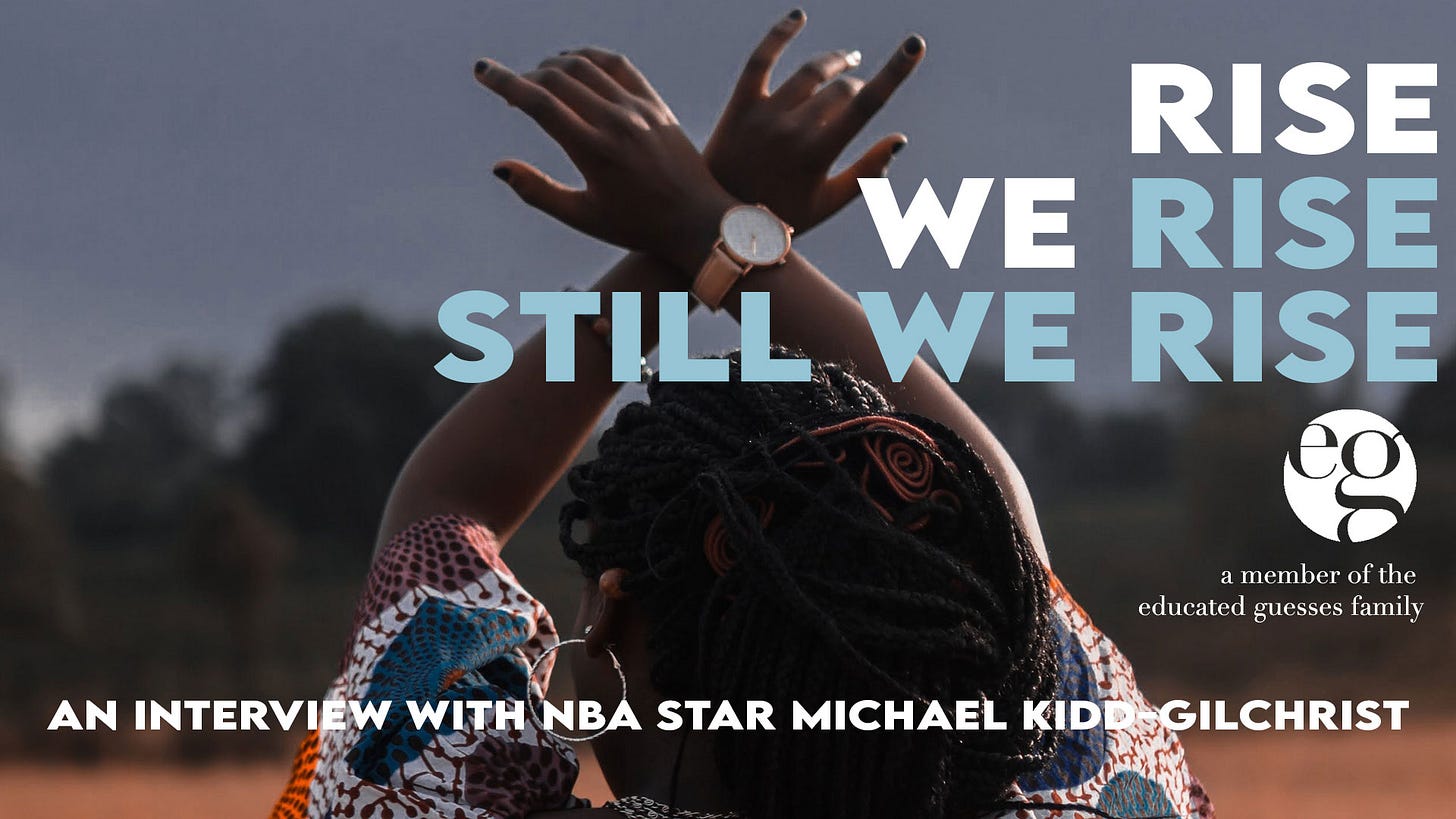 Photo by Ian Kiragu on Unsplash
---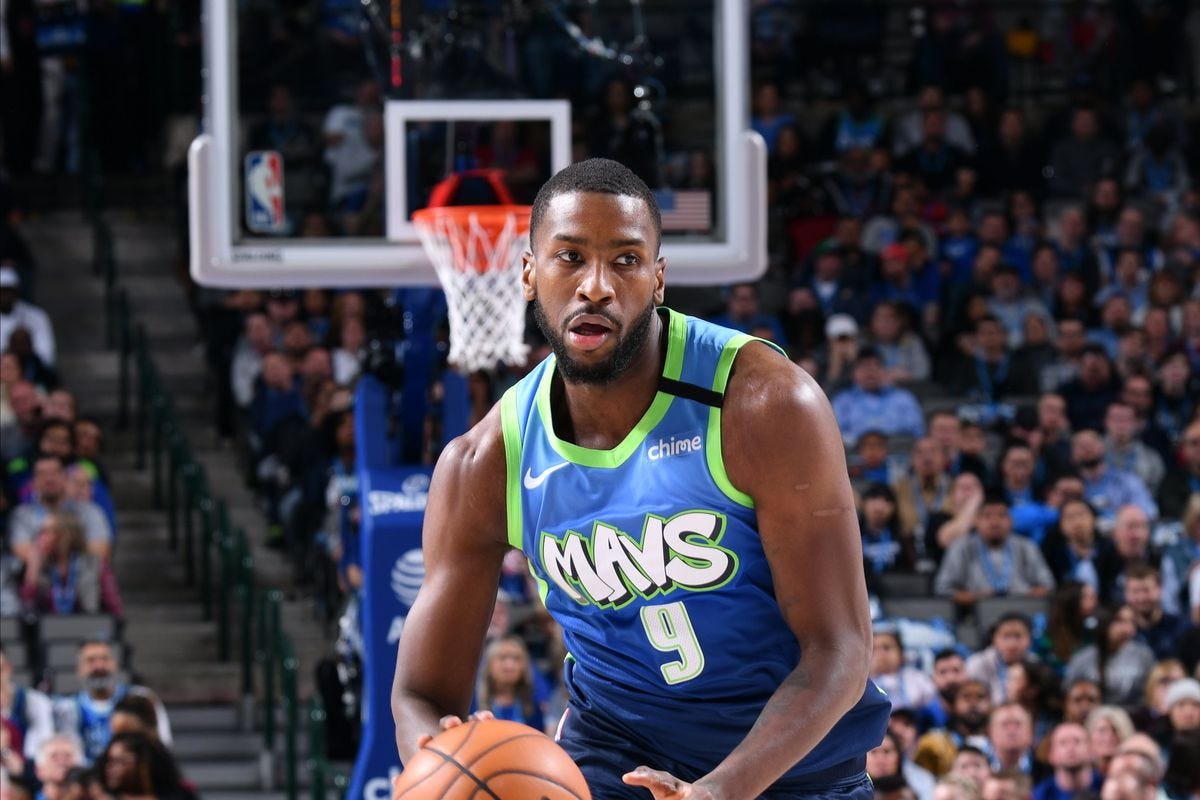 According to the American Speech-Language and Hearing Associations only 3.7% of Speech-Language Pathologists (SLP) are male and only 3.6% are Black. Looking at these numbers it is evident that Black male SLPs are extremely rare.
Something even more rare is for someone to earn their way into the NBA. According to the NCAA, only 1.2% of collegiate basketball players make it to the NBA.
Michael Kidd-Gilchrist has already accomplished the latter when he was chosen 2nd overall in the 2012 NBA Draft by the then Charlotte Bobcats (currently the Hornets). Now he has his mind set on defying the odds once again by becoming an SLP.
You may ask yourself why someone who is enjoying a successful career in the NBA would be interested in such a career path. When you understand his story it makes perfect sense.
Kidd-Gilchrist has been intimately familiar with the profession for most of his life.
How?
Because, he is a person who stutters.
An SLP had a profound impact on his life. He hopes to one day do the same for children who were just like him when he was growing up. 
Kidd-Gilchrist currently plays for the Dallas Mavericks and is now in Orlando with the team in the NBA bubble. While many of his teammates and other players are spending their downtime doing recreational activities and relaxing, Kidd-Gilchrist is taking online classes to get himself closer to his goal. 
Although he is in the early stages of obtaining a degree in the field, he is already contributing to it.
SLPs assess, diagnose, and treat communication disorders, but most of them have never had one themselves. Kidd-Gilchrist lectures at colleges and universities to help SLPs understand the perspective of someone with a communication disorder, specifically stuttering. 
I first met him when he came to speak at the University of Houston, where I am a second year graduate student majoring in Speech Language Pathology. He shared with us his resilient story of being an insecure boy who was afraid to speak and how he became a man who is actively using his platform to help fix the system for those like him.
I spoke to him via phone from the NBA bubble in Orlando. 
"I want to fix the system when it comes to stuttering and people who stutter," he said.
In his free time he does as much as he can to help.
"I just got done talking to a university yesterday."
It is important to him to raise awareness of stuttering. As someone who stutters it is easy to feel isolated or different. This started early on for Kidd-Gilchrist.
"It started at the age of 9 or 10," he said. "At that point in time in my life I had only known of two people who stuttered, my grandmother and my uncle. Other than that I didn't ever see [another] person who stuttered until I was in my 20s. It can be a lonely journey. I just want to give the kids [and others who stutter] someone to contact or even look up to. Even after basketball." 
Although people who stutter tend to feel isolated because they don't encounter others who stutter, the disorder is much more common than we think. According to the Stuttering Foundation, over 70 million people worldwide stutter.  The reason that stuttering doesn't seem as prevalent is because many are receiving therapy and others are good at masking it by withdrawing or not speaking very much.
Speech therapy is an important tool to help those with speech disorders to become more comfortable with themselves especially when interacting with others. In schools in order to receive adequate speech services you are required to have an Individual Education Plan (IEP). IEPs fall under the domain of "Special Education." Historically, that term has had a negative connotation. As a result, many families feel that an IEP may somehow unfairly label the child as inferior to the rest of the student population.
"I had an IEP because I stuttered," he said. "And I don't think that's fair on a lot of levels to people that are really smart. Because they stutter it's not their fault."
In most cases the problem is not with the IEP, but with the perception. Kidd-Gilchrist believes that we sometimes can get lost in the problem and lose sight of the person.
"I always hear the term in society today that the problem is bigger than the people."
Kidd-Gilchrist is well aware of the fact that he is not an average person. Basketball has given him more privilege than the typical person who stutters. In 2012 Kidd-Gilchrist and Los Angeles Laker star Anthony Davis brought a National Championship to my alma mater the University of Kentucky. 
During his one and done year at Kentucky he recognized that he lived in a different world than the other students on campus. The university went to great lengths to assist him.
"At Kentucky, when I was there I never got teased only because I hooped."
Success came really quickly for the basketball star. Three months after winning the NCAA title Davis and Kidd-Gilchrist were the first two picks in the NBA draft. Although he was being celebrated for his athletic gifts, he still was dealing with his stuttering.
"I was in the NBA at the age of 18, so that really caused a lot of insecurity."
He was not alone as a young man entering the NBA draft with insecurities. However, he had something that was adding to his worries. Many people who stutter share this insecurity. They often find themselves in situations where they are unable to communicate effectively and are often dismissed by communication partners. 
In a strange new world where everybody knows your name and wants to talk to you, Kidd-Gilchrist eventually figured out a simple solution - patience.
"In today's society [people] just don't understand the process and that's OK. If people were a little more patient with people who stutter things could be different." 
Kidd-Gilchrist is continuing to champion to change the stigma surrounding stuttering and is even helping to create cards and other tools to make others aware of it. 
"I want to fix the system where, there are cards you can give to people to let them know that you stutter," he said.  "I want to make that an international thing and to go even deeper on my journey I want to get to the point where it can [be a part of] legal documents." 
Michael Kidd-Gilchrist's success as a basketball player is well known and has served as a source of inspiration for many who have followed his career. Most do not know about his personal journey and how he is a role model and a source of inspiration off the court.
He is extremely active in the Stuttering Foundation. Last year he received an award from the National Black Association for Speech Language and Hearing for his accomplishments. His hard work in the field as well as his work towards his degree in Speech Language Pathology are just as important to him as basketball and will set the foundation for his life when he leaves the game.
He has overcome many obstacles in his life. His journey from a shy insecure boy who didn't want to speak to a confident man who is using his voice to help others is the reason that Kidd-Gilchrist is the embodiment of resilience.
Not only is he resilient, but he is also innovative. He is doing whatever he can with the resources and the platform that he has to make the world a better place for people with communication disorders. 
As a future SLP, Kidd-Gilchrist will join a field that is sorely lacking diversity, particularly in the realm of Black men. It is so important for children of color to have the opportunity when possible to have professionals who look like them and have the same experiences as them when they are receiving therapy or assistance. Hopefully one day, just as many Black boys will look at Kidd-Gilchrist and be inspired to pursue a career as an SLP as those that want to follow in his footsteps onto the basketball court. 
One thing is for sure.
Even after his basketball days are behind him, Michael Kidd-Gilchrist will continue to rise and leave a lasting impact.
#StillWeRise
---
If you haven't already please click the button below to join our mailing list or subscribe.