Discover more from educated guesses
carefully crafted and curated words, stories and discussions about culture, race, identity, community and family from a family of Guesses. #WordsMatter, #StoriesMatter
My Big Mama Influences, Part III: Callie Mae Peterson
My paternal grandmother taught me important lessons that I was able to pass on to my children. You can do the same.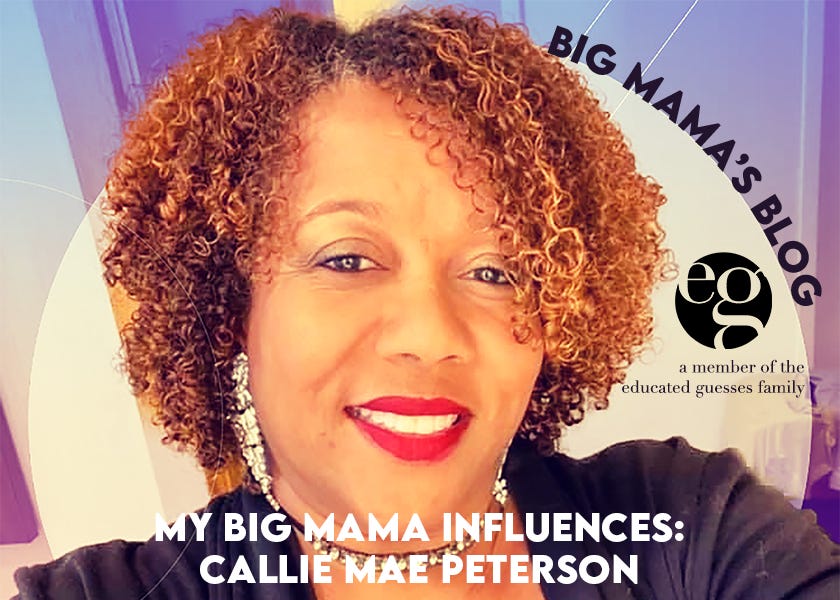 ---
I would like to thank each of you that allowed me into your space to share my Big Mamas with you. The trip down memory lane has afforded me the opportunity to see just how much of each of them I have in me. They all represent a legacy from both my maternal and paternal lineages. However, they were all matriarchs of their respective families in their own right.
The last of the three matriarchs and personal Big Mamas of my life is my grandmother Callie Mae Peterson.  She was born in 1916 and is the most resilient person I know. She and my grandfather raised seven children. There were six girls and one boy, my father. She was also instrumental in raising several of my cousins.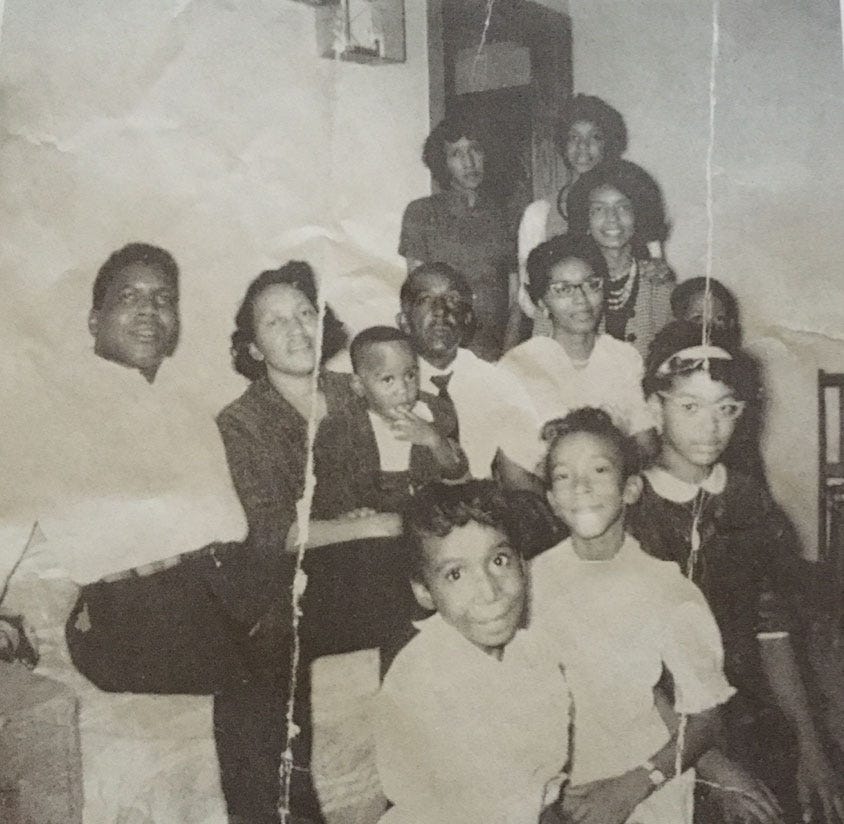 My father, James Peterson (l) sitting next to his mother Callie Mae Peterson and father Robert Otis Peterson surrounded by several generations of family
---
She was the definition of a family matriarch! She exemplified the same power for her family, as Big Mamas Alma Jewell Harris and Ola Mae Williamson Johnson did for theirs.
I didn't spend as much time with Grandmother Callie Mae because she lived in Brownsville, TN. I loved visiting the farm in Tennessee for summer break. She would have me help her pick vegetables on the porch while the older cousins would bring us the bounty from the farm. She was always bigger than life to me. Despite her strong presence and personality, she battled Parkinson's disease. As long as I can remember her head shook, her hand shook, and even her voice would tremble when she spoke, but that never slowed her down. She never let it stop her from doing her usual work, and she would find the time to cook and spend with me.
One of my most cherished memories of her during my summer visits was racing to the kitchen to watch her make a big breakfast, at sunbreak. Although she had Parkinson's disease, she would make buttermilk biscuits from scratch; flour would be everywhere. I loved watching her knead the dough and cut out the biscuits in spite of her trembling hand. The taste of hot biscuits with homemade jelly was worth the early rising. I can still hear her voice as we would talk in the mornings before the aroma of good cooking awakened and mesmerized the rest of the family to the kitchen. I really enjoyed this one on one time with Grandmother Callie Mae. To this day, breakfast is still my favorite meal of the day!
When I started a family of my own, I would get up every morning and make my children breakfast before school. This was valuable one-on-one time. When the first three children graduated and left the nest, my husband would complain about me setting my clock to get up and make breakfast for our youngest, Morgan. She was in high school at the time, and I would have this same one-on-one time with her before she would drive herself to school. I wasn't making homemade biscuits and jelly, but it was a nice meal before she started her school day. I really enjoyed those mornings.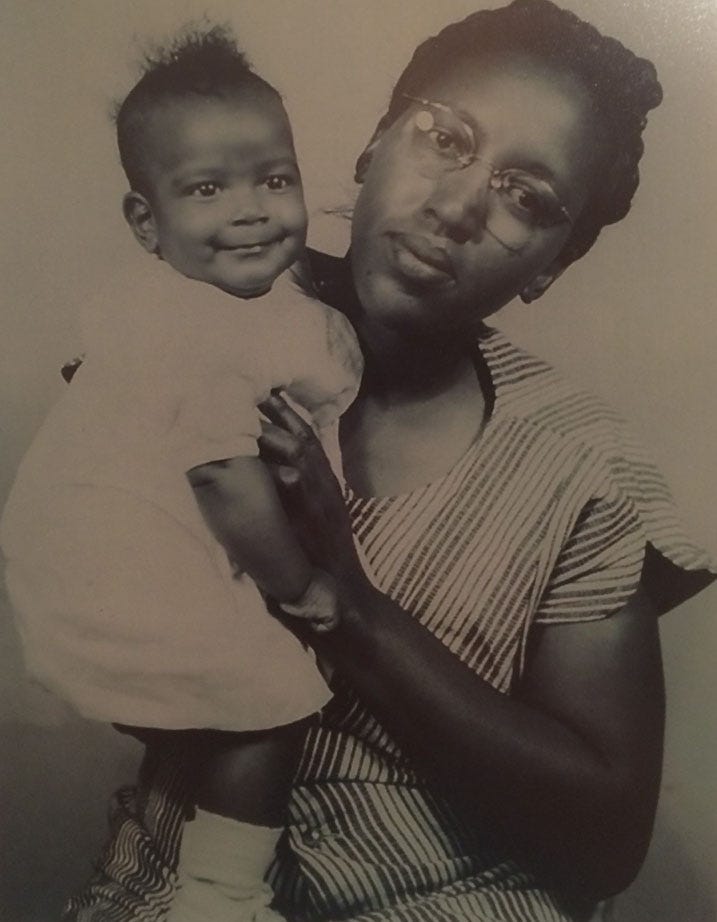 My grandmother, Callie Mae Peterson holding her daughter Edith, who is now Brigadier General USAF (retired), Dr. Edith Faye Peterson Mitchell.
---
I was glad to learn that this time was as special to Morgan as my time was with Grandmother Callie Mae.
"For as long as I can remember my mama would always make me breakfast," she said. "I even found an entry from my second grade journal recently about my mama making me breakfast. I talked about how she made the pancakes small just how I wanted them, and they were very special just for me. By the time I got to high school, although I did not need a ride to school and my mother did not have to wake up, she would get up and cook me breakfast, even though I could not stomach much food that early and would only take a few bites. Even now coming home from college I can hear the wrestling of the pots and pans in the kitchen, I can hear her beating the eggs, and if I wake up in time, she will always have breakfast waiting for me. One meal I know my mama never skips is breakfast! These days if I am awake in time, I can sit and watch her news with her, eat breakfast, and have our special time."
I learned more than the importance of quality time and breakfast from my grandmother Callie Mae. Watching my grandmother navigate the world through the lenses of Parkinson's was beneficial when I was diagnosed with Crohn's disease. Before my diagnosis I had dropped a lot of weight and had major gastrointestinal problems. I felt like I was going to die. 
Once I came to terms with my diagnosis, I began my journey back to good health and stability. I take my medication and exercise almost every day. I come from a long line of resilient people, and I will not let health issues take me down without a fight. Grandmother Callie Mae was a beautiful example of how not to let sickness slow me down or get me down. 
Grandmother Callie Mae was also a master quilt maker.  She made one for all of her children and most of her grandchildren.  Unfortunately, she was unable to continue her craft due to her tremors; I was not able to receive one for myself. I reached out to a few family members for pictures of theirs so that I could share her work with all of you.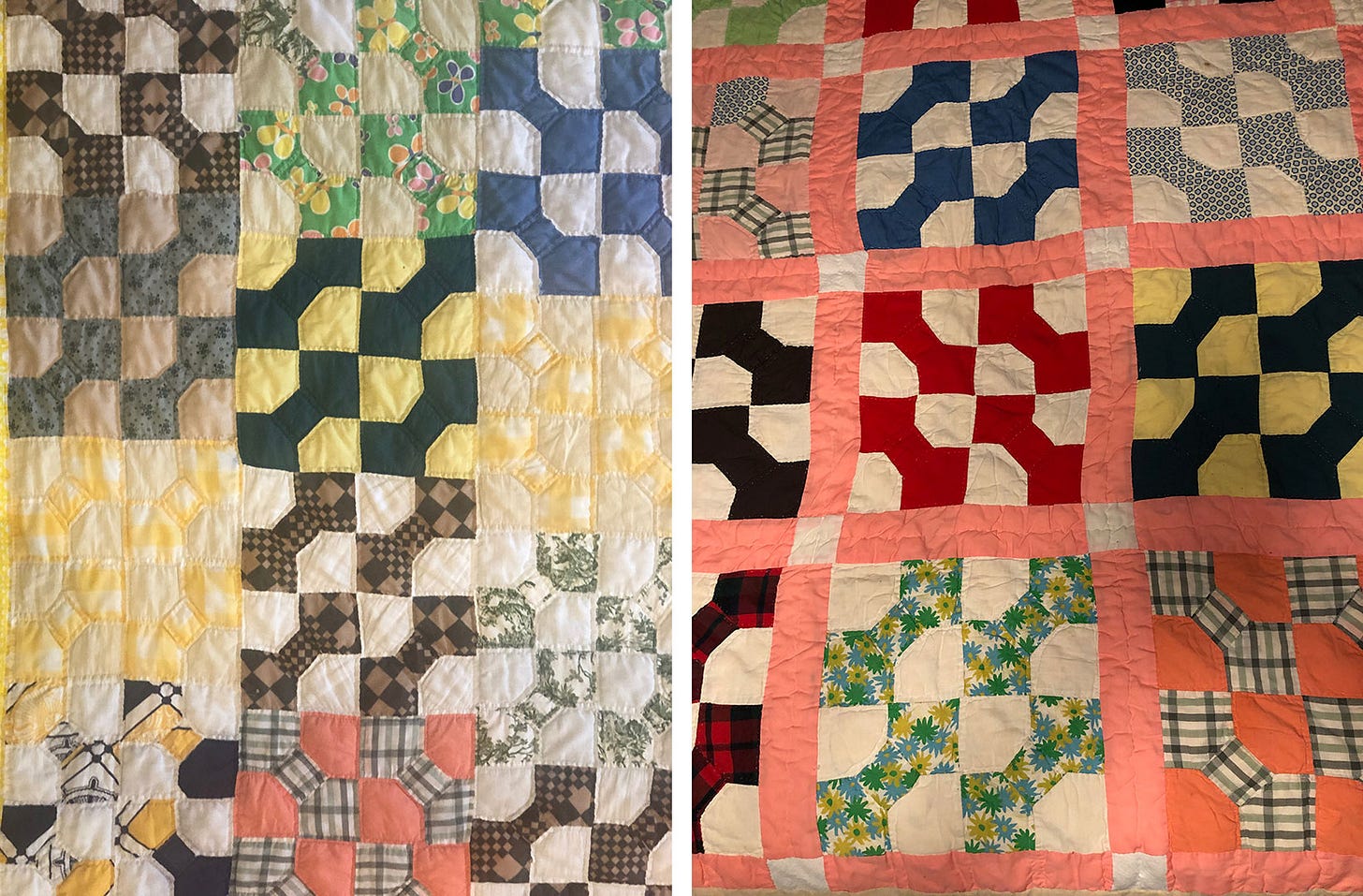 Quilts made by my grandmother for my cousin Dana (l) and sister Bonita (r)
---
Thank you, Big Mama Callie Mae Peterson. None of my family took up quilting, but Morgan has been weaving her own version of quilting through scrapbooking. We now spend our quality time during pandemic pouring ourselves into scrapbooking for close friends and family. 
She has been giving the gift of preserving memories.
Big Mama Lessons:
Watch out how you respond to adversity because you never know who is watching you. Always seek the high road and make the best out of the life that was handed to you. Life is a series of ups and downs. How you react makes the difference.

Spend quality time with your children and family. Life is short but memories last for a lifetime. I always found age appropriate activities to share with my children and grandchildren by attending sporting events, sharing favorite movies, or baking in the kitchen together.

Take time to care for yourself and do things that make you happy. My favorite activities are Zumba, singing in the choir, and line dancing. I want my kids to take care of their physical and mental health. I want them to see me living life to the fullest despite my chronic Crohn's disease.
If you have any questions, you can email me at bigmama@educated-guesses.com
Click here to learn more about Big Mama's Blog.
Click here to see all the posts from Big Mama's Blog.
If you haven't already please click the button below to subscribe.
---
#EG-BigMamasBlog