Discover more from educated guesses
carefully crafted and curated words, stories and discussions about culture, race, identity, community and family from a family of Guesses. #WordsMatter, #StoriesMatter
Dear LeBron: an open letter to LeBron James on how he can help lead the charge to change policing
LeBron could follow in the steps of my homeboy Muhammad Ali, the indisputable G.O.A.T., to help solve the problem of police brutality.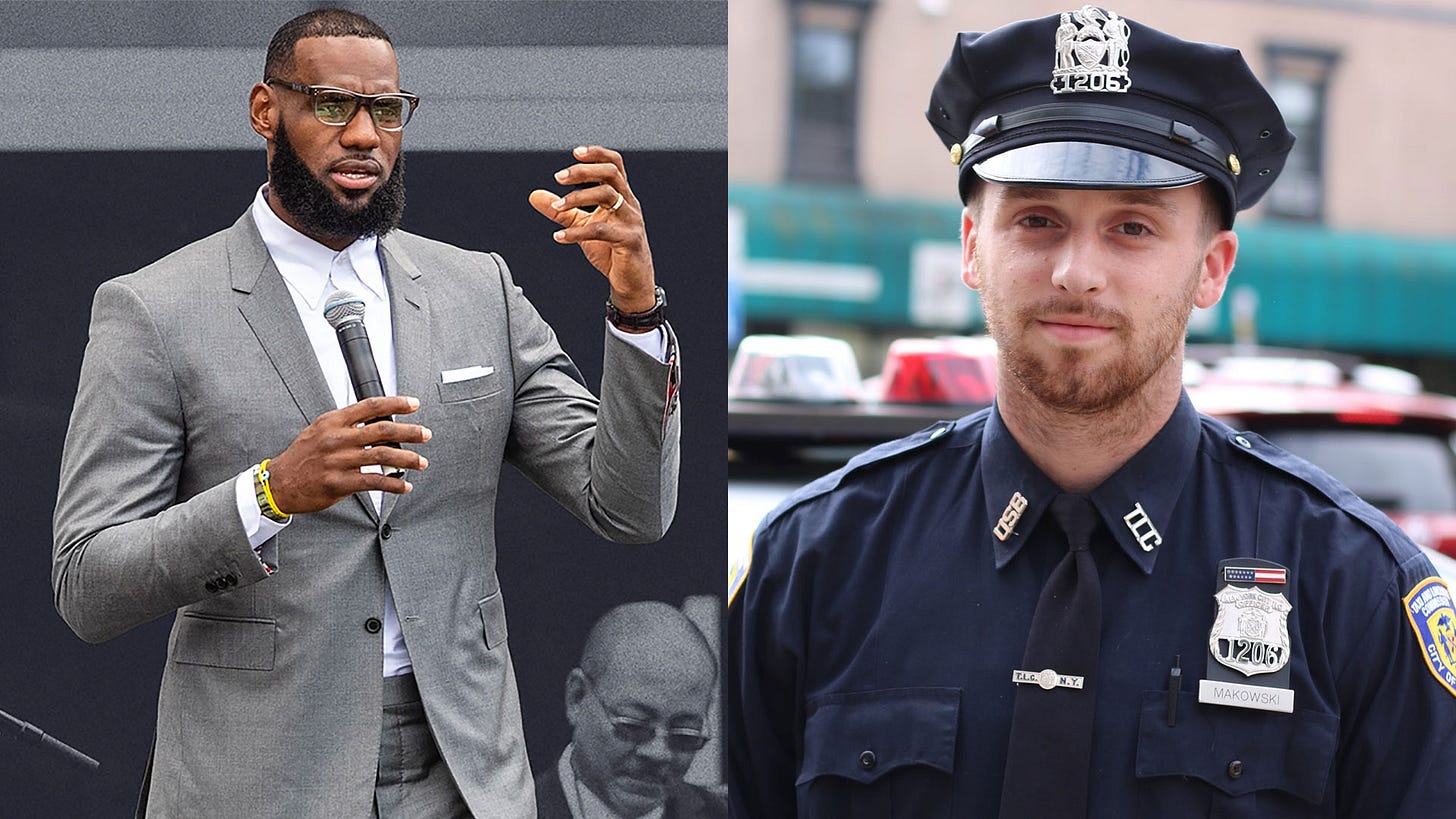 Photo of police officer by Jacky Lam on Unsplash
Dear LeBron,
I am writing you this letter from my hometown, Louisville, KY, home of the indisputable G.O.A.T., Muhammad Ali.  Over the past few weeks there has been non-stop protesting in the streets of our city as the citizens cry out for justice for Breonna Taylor.
My city is reeling.  
The nation needs healing.  
Policing is the problem that we are all dealing with.
If Ali were still alive, I along with countless others would call upon him in this time of crisis and darkness to help guide our city and our nation to the light.  His ability to do just that over the years and his often unpopular public stances against injustice are what make him the indisputable G.O.A.T.  At this point, his athletic prowess and accomplishments pale in comparison to that aspect of his legacy.
It is with this in mind that I am writing you this letter.
As we enter the 4th month of this pandemic and national crisis, we are in desperate need of tangible solutions that can serve as a foundation for lasting change.
I believe that you are the one that can lead the charge on one very specific solution that can serve as a beacon of light for change all over the nation.
In the same way that you saw a problem and turned it into an opportunity with the public education system in your hometown of Akron, OH by marshaling the forces and leading the effort to build the I Promise School,  you have a golden opportunity to deal with the problem of policing in this country. 
I am asking on behalf of the entire nation that you do for the Akron police department what you did for the public school system in the city - the same thing you did for the Cleveland Cavaliers - take your talents back to your hometown and help change the police department to become a model for the rest of the country.
Unlike the Louisville police department, the Akron police department isn't knee deep in controversy, which could make them a great candidate for proactive reform.
You would be hard pressed to find another black man anywhere in this country who has the empathy, the experiences, the respect, the love, the connections and the influence in his hometown than you.   
Ali has it with Louisville.  
You have it with Akron.
You can assemble an All-Star team of public safety and policing professionals, activists and community leaders to go back to Akron with you to help build a world-class reimagined police department that can be a model that others around the country will want to replicate and emulate, just like your I Promise School.
You can use President Obama's May 2015 Report on 21st Century Policing as one of the initial playbooks.
If you think about it, education and policing are not too dissimilar.  There are overarching national goals that we would all like to see for both, but the responsibility for and the delivery of the services are left up to the state and local government.   Rural, suburban and urban education models are all different and have different challenges.  The overall outcome goals may be the same, but how you deliver the educational services varies.  
The same thing is true for policing.
However, the one thing that is desperately needed for both to be successful is leadership.
This is where you are uniquely qualified.
Your entire career in the NBA has prepared you for the type of leadership that is much needed for this task at this moment.  You have always surrounded yourself with teammates, coaches and staff who have had a diverse set of unique skill sets that when combined with your leadership have made the team an instant contender for a championship.  As a leader both on and off the court, you have empowered those alongside you to do their jobs and in some of the most critical moments, you have called on them and trusted them to deliver.
The jabs that you have taken from the critics over the years are actually some of your greatest strengths and are the qualities most needed for this endeavor.  You're not a ball hog.  You defer to others.  You trust your teammates. These are things that some say take away from your basketball G.O.A.T. candidacy, but are just the qualities needed to be the indisputable G.O.A.T. like Ali.
You're not an expert in education. Yet, you surrounded yourself with those who are and built a world-class school that educators and communities all over the country are trying to emulate.
When you were drafted at 18 years old, you weren't an expert in business and industry. Yet, you and your friends -  now professional colleagues -  have built a business empire whose impact and voice can be felt and heard all around the globe even while you continue to dribble.
We are at a moment in history that is pregnant with possibility.  
Change is in the air.
We must take this momentum and the focused attention of the moment and quickly move to tangible results and wins.  
You know this moment.  
You've been here before.
You know what to do.
So please, pick up the phone and call the mayor of your hometown and offer yourself up to help reimagine policing, not just for them, but for the whole country.
Sincerely,
Andre Kimo Stone Guess