Discover more from educated guesses
carefully crafted and curated words, stories and discussions about culture, race, identity, community and family from a family of Guesses. #WordsMatter, #StoriesMatter
Childhood Smoketown gone, not forgotten
I recently went back to my old neighborhood and didn't recognize it, but my family there make it so that I can never forget it.
Originally published in the Louisville Courier-Journal on October 14, 2016
Smoketown is the first black neighborhood in Louisville. Former slaves settled there shortly after emancipation. I was born and raised there and my family roots go back nearly 100 years. Gun violence this past summer reminded many of the "bad neighborhood" tag that has hung over the area for decades despite recent revitalization efforts.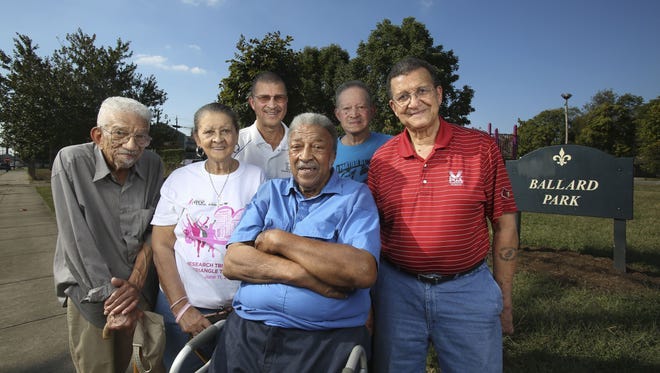 On Aug. 30 I participated in a Peace Walk in the neighborhood. People from all over the city came out to show support in the wake of the recent violence. I actually hadn't been down there for several months and was surprised by what I saw. The new mixed-income housing that replaced the Shepherd Square housing projects was very nice, but something just didn't feel right. Something was missing.
I wondered if I was lamenting the loss of my childhood home at 926 S. Jackson, which was destroyed by fire in 2011. (I wrote a piece about it for the CJ on Feb 23, 2011.) That was definitely part of it but not the sole reason for my uneasiness. As I walked I noticed that most of the familiar landmarks were gone. If it hadn't been for the street signs I wouldn't have known where I was going. That's when I realized that "My Smoketown" had completely changed and was pretty much gone forever.
This epiphany sent me into an emotional tailspin. When I was able to ground myself I set out on a path to try to spiritually reconnect with my family and neighborhood. I called my father, Harold Guess Sr., 83, and his seven siblings, Maude Guess, 92, William "Singie or Sack" Guess Sr., 86, Wellington "Boney" Guess, 82, Emory Guess, 80, Shirley Crowe, 78, Barbara Williams, 74, and Carey "Sookie" Guess Sr., 70, and told them about my experience and asked if we could all come together to talk in person and/or by phone about our family history in Smoketown. To my surprise they all quickly and happily obliged. The only sibling that wasn't represented was John Guess who was born one year after Maude. He passed away in 1992.
What I learned from our conversations and subsequent research is nothing short of amazing. I knew bits and pieces of what I found out, but a lot of it was brand new to me and provided fresh insights into my family, my neighborhood and myself.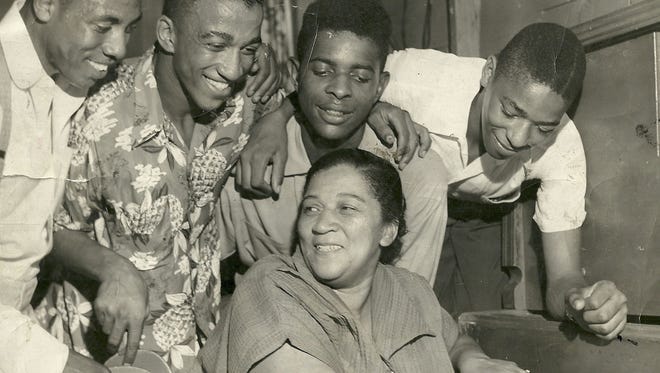 The story begins with my paternal grandparents. My grandmother Willie Leola McQuany was born in 1901 in Milton, Ky. Her grandmother, Ella Neal, lived across the river in Madison, Ind. She went to grade school in Madison, which is where she met a young boy by the name of George William Guess. George's father was a teacher at that school. (George's younger brother, Evan Guess carried on that educator legacy several years later when he became a principal in Madison. Evan moved to Louisville in the 1950s and his daughter Denise Clayton is a judge on The Kentucky Court of Appeals.)
Willie and her parents, Alberta and John McQuany, moved to Smoketown sometime before 1920, probably in the mid-teens. The 1920 census shows that they all lived at 815 S. Jackson St.  After graduating from Central High School, Willie attended Howard University in Washington, D.C. She came back to Smoketown without completing her studies. However, she finished her education at a normal school and began teaching at Booker T. Washington Elementary School, which was located where Meyzeek Middle is now.
Get the Coronavirus Watch newsletter in your inbox.
Updates on how the coronavirus is affecting your community and the nation
Delivery: Varies
Your Email
Willie and George were married in 1923 and settled in Smoketown. According to my Aunt Maude, the young couple eloped:
"My father was a visual artist. He was very technical and liked tinkering with things and I guess Mother's parents didn't approve of an artist for their daughter, so they eloped. My grandfather, John McQuany, was an entrepreneur. He had several different businesses including a funeral parlor and car repair business in Smoketown so maybe they thought that Daddy didn't live up to their standards. My grandparents were proud people and probably thought that Mother would meet someone at Howard and marry 'up.' She had her own car when she was a teenager, which was unheard of in those days. That's not to say that Daddy was beneath her, far from it. He actually attended Indiana University. I'm not sure if he graduated, but I do remember him telling me about going there."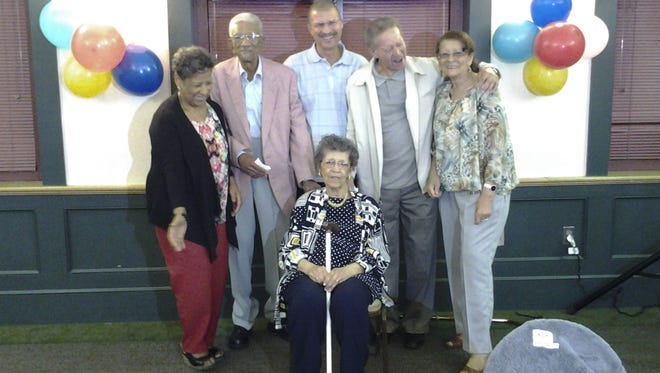 While George was an artist, Willie was an advocate. John McQuany was a political force to be reckoned with, something that he passed on to his daughter. My Aunt Shirley explains:
"My grandfather was the first black captain of a voting precinct in the city. Mother eventually took over for him. They were very involved in the Republican party, which was the party that most blacks were affiliated with back then. My grandmother (Alberta) was the first woman of color to serve on a grand jury in Louisville in 1934. She even served as foreman for part of the process. Mother started working in the Republican party as a teenager with her father, which I'm sure is why she got me and my siblings involved in politics as well. I'm not quite sure of the timing, but Mother was involved in the development of Ballard Park on Caldwell Street from land donated by the family of Thurston Ballard Morton who was a congressman. She actually helped to get him elected. She was also instrumental in getting Woodford Porter elected in 1958 as the first black member of the Louisville Board of Education with a single shot vote where every single person in her precinct cast their vote for him at her request. That's what put him over the top. My grandfather and mother used their political work and influence, not for personal gain, but to help the entire community."
As Maude mentioned, George Guess was a talented visual artist. He was also a technician and craftsman. Some of his handiwork involved working with a couple of well-known Louisville-based brands – Louisville Slugger and Kool Cigarettes.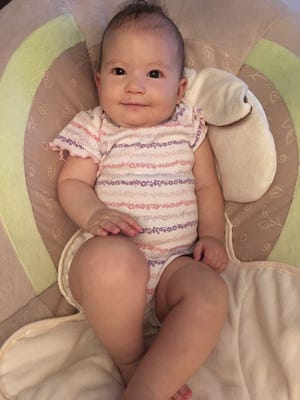 Maude remembers him working on a stencil for Hillerich and Bradsby that was used to burn their logo onto baseball bats at the Louisville Slugger factory located on the corner of Preston and Finzer streets in Smoketown. She also remembers him working on a billboard for Kool cigarettes that was installed on Broadway. The mechanical billboard featured the Kool penguin mascot sliding down a hill.  My Aunt Barbara remembers a time years later when she came across an interesting tidbit of information about that penguin. "Shirley and I were looking up some things one day and we came across some information about the Kool cigarettes mascot. We found out that the name of the mascot was 'Willie the Penguin.'Coincidence? I don't know you tell me," she said.
George was a man before his time, something that Carey, the youngest child, learned first hand. While working on his master's degree at the University of Louisville in the 1970s, one of his professors approached him after class one day.
"He asked if I was kin to George Guess. I told him that he was my father. He went on to tell me that while he was working at a blueprint shop as an undergraduate in the 1930s that my father, who worked there too – no doubt in a job well below his ability given the time – had tutored him on his college classwork in the back room. I couldn't believe it. I was bursting with pride. That conversation has always helped me put a lot of things in perspective about my father and our family."
Not too long after these tutoring sessions, things became difficult for George and Willie. In the midst of the Great Depression work opportunities dried up for George, so they had to move in with his in-laws at 926 S. Jackson St. John and Alberta McQuany moved to 926 sometime between 1920 and 1930; and in 1939, Willie, George and their kids joined them there.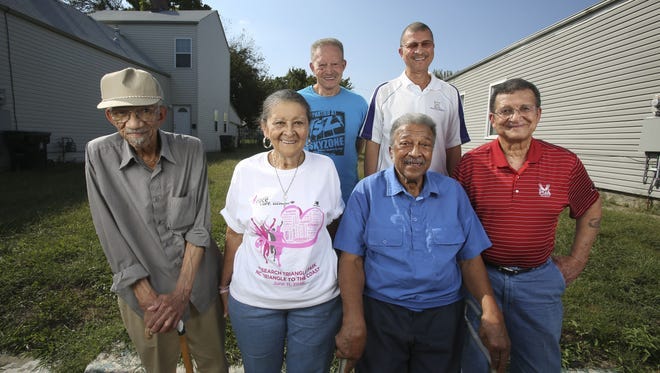 A year later in 1940 Alberta passed away and John followed a few months afterward. Willie and George inherited the house and would raise their children there. They had a very particular parenting paradigm. My Uncle Wellington ("Boney") summarizes it best:
"They raised us all to have a sense of excellence, to be the best. They never wanted us to dishonor the family name. They didn't raise us to 'be better' than others, they wanted us to 'do better' than others and in doing so they expected the benefits to accrue not just to us and our family but to others as well, especially those in the community."
That "do better" philosophy fostered a healthy sense of achievement and competition in their children. It's no surprise that all of the Guesses excelled academically. When my father, Harold Sr., attended Central High School in the 1940s, his Smoketown roots made some not expect very much of him.
"I viewed being from Smoketown as a badge of honor. I loved proving people wrong when they found out where I was from. I took pride in representing my so-called bad neighborhood with excellence," said Harold.
His love of Smoketown was part of the reason that he decided to continue the McQuany/Guess legacy at 926. In 1974 he purchased the house from his mother who moved to the West End to live with her daughter Shirley. Willie passed away nine years later.
My four siblings and I were all raised at 926 and from 1974 to 2011 another three generations grew up there making it six generations in total of the McQuany/Guess family that called 926 home.
The legacy of the Smoketown McQuany/Guess family is remarkable, but there are two things that are truly noteworthy:
1) There are over 100 descendants of George and Willie Guess living around the globe spanning four generations. To date, only two have passed away and for the most part there are no major illnesses or maladies other than complications brought on by old age.
2) Educational excellence and academic achievement are hallmarks of the family legacy and the statistics back it up. Starting with George Guess's father, my great grandfather, who was likely born less than a generation after slavery, there are five successive generations of McQuany/Guess family college graduates with a sixth generation currently enrolled. There are also several others in each generation who have attended college.
The health and prosperity of the descendants of Willie and George Guess are a blessing and something to behold. I believe these blessings to be the result of the sacrifice and commitment that they made for their family and community.
Although the Smoketown that I knew growing up may be gone forever, this journey of discovery has inextricably spiritually rooted me in my family and my childhood neighborhood. It has changed my life. My hope is that our story can be an inspiration to others as well.