Discover more from educated guesses
carefully crafted and curated words, stories and discussions about culture, race, identity, community and family from a family of Guesses. #WordsMatter, #StoriesMatter
Becoming Big Mama
The first post from my blog - BigMamasBlog.com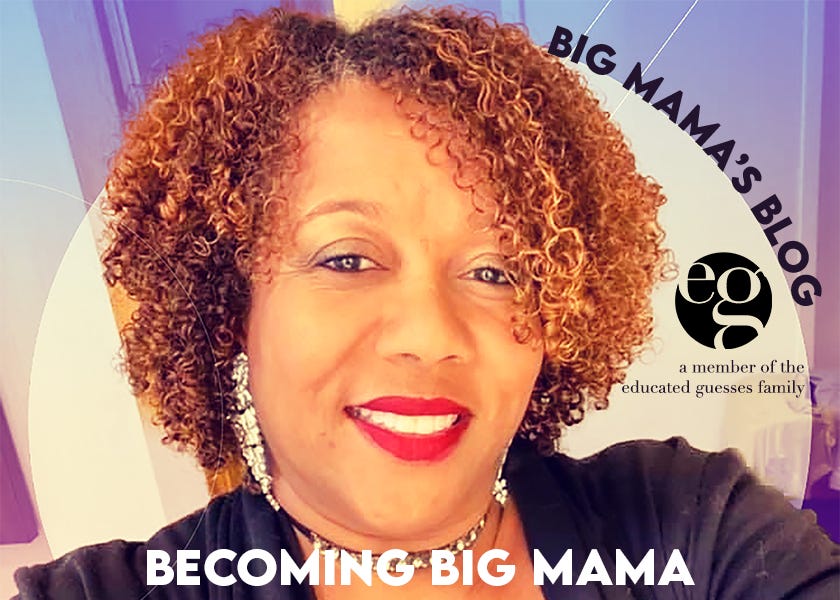 ---
In an age where we are tearing down controlling and stereotypical names and images in the media, why in the world would I want my family to call me Big Mama?
In the words of Audre Lorde, "If I didn't define myself for myself, I would be crunched into other people's fantasies for me and eaten alive."
Big Mama is a badge of honor that I am proud to wear. As a child, I always knew that I wanted to be a mother, so when I married my soulmate Andre, I was very happy when we began to plan to have a family.
Our first born was a boy, Wynton and two years later we adopted a teenage girl, Kenithia and within the next 4 years two more girls were born, Kennedy and Morgan.
I was an active parent. By the time the youngest was born I put aside my career as a Speech Language Pathologist to become a full-time stay at home mom. I went to all recitals, sporting events, participated in PTA and was Girl Scout Cookie mom for two troops. I worked with the children in church by teaching Sunday school, directing the children's choir, supporting the director and young people of the youth choir, and teaching new member's class for children. 
Yes I dived into the role of motherhood with both feet!
Fast forward to now, I am 54 with 4 children and 4 grandchildren. Andre and I just celebrated our 30th wedding anniversary in June. All of our children are grown, well adjusted members of society with a healthy sense of self. Our youngest three are all actively pursuing studies that will eventually lead to a Ph.D. and our oldest just celebrated her 8th wedding anniversary, has four children and has a career as a financial services professional.
I work with my husband in our company, GuessWorks, Inc. I manage and take care of logistics for our clients. I am a very active member of Alpha Kappa Alpha Sorority, Inc. as is my little legacy - my daughter Kennedy. I am so grateful to see that she is also following in my footsteps on another path as she is finishing her Masters in Speech Language Pathology.
I still attend games and events for our children and grandchildren and I have been appointed the official photographer at all of these events.
I love having the house full of young people and cooking great meals. I love singing in the church choir and supporting my church for funerals and repast meals. I am constantly being asked to dispense advice on all kinds of topics from parenting, recipes, matters of the heart, celebration ideas, medical advice, you name it.
One day out of the blue, when I walked into the door, my husband said to our daughters "Big Mama's home!"
I said, "Why did you call me that?"
He replied, "What did you do today?"
I said, "I cooked an early dinner, took my mother a plate of food, attended a sorority committee meeting, sang at a funeral at my church, and served dinner for the repast."
Before I even finished recounting my day, I knew it was official. Without me even realizing it I had become Big Mama!
After that, embracing the title of Big Mama was easy.
I accepted the crown bestowed upon. I feel very comfortable in my own skin.
When COVID-19 quarantine hit, my husband relaunched our family website Educated-Guesses.com. Our family dove in and started publishing articles for the website and Andre had the nerve to purchase BigMamasBlog.com and suggest that I share all of my Big Mama moments, advice and stories with the world.
The thing that Andre and I are both most grateful for is the time, energy and love that we purposely poured into our children and our family. It wasn't easy by any stretch of the imagination but life's journey never is. We've learned that life is indeed a struggle, but it's always best when you embrace that struggle and make it a beautiful struggle.
Now that we are officially entering our third act, it's time for me to share what we learned from that process and that beautiful struggle with others.
So here I am. This is the first article for BigMamasBlog.com
Accepting the mantle of and defining myself as Big Mama was one the best decision that I have ever made!
Join me in my new journey!
If you have any questions, you can email me at bigmama@educated-guesses.com
Click here to learn more about Big Mama's Blog.
Click here to see all the posts from Big Mama's Blog.
If you haven't already please click the button below to subscribe.
---
#EG-BigMamasBlog