8 bars with: nabaté isles
Our guest is trumpeter, educator, composer, producer and sports junkie Nabaté Isles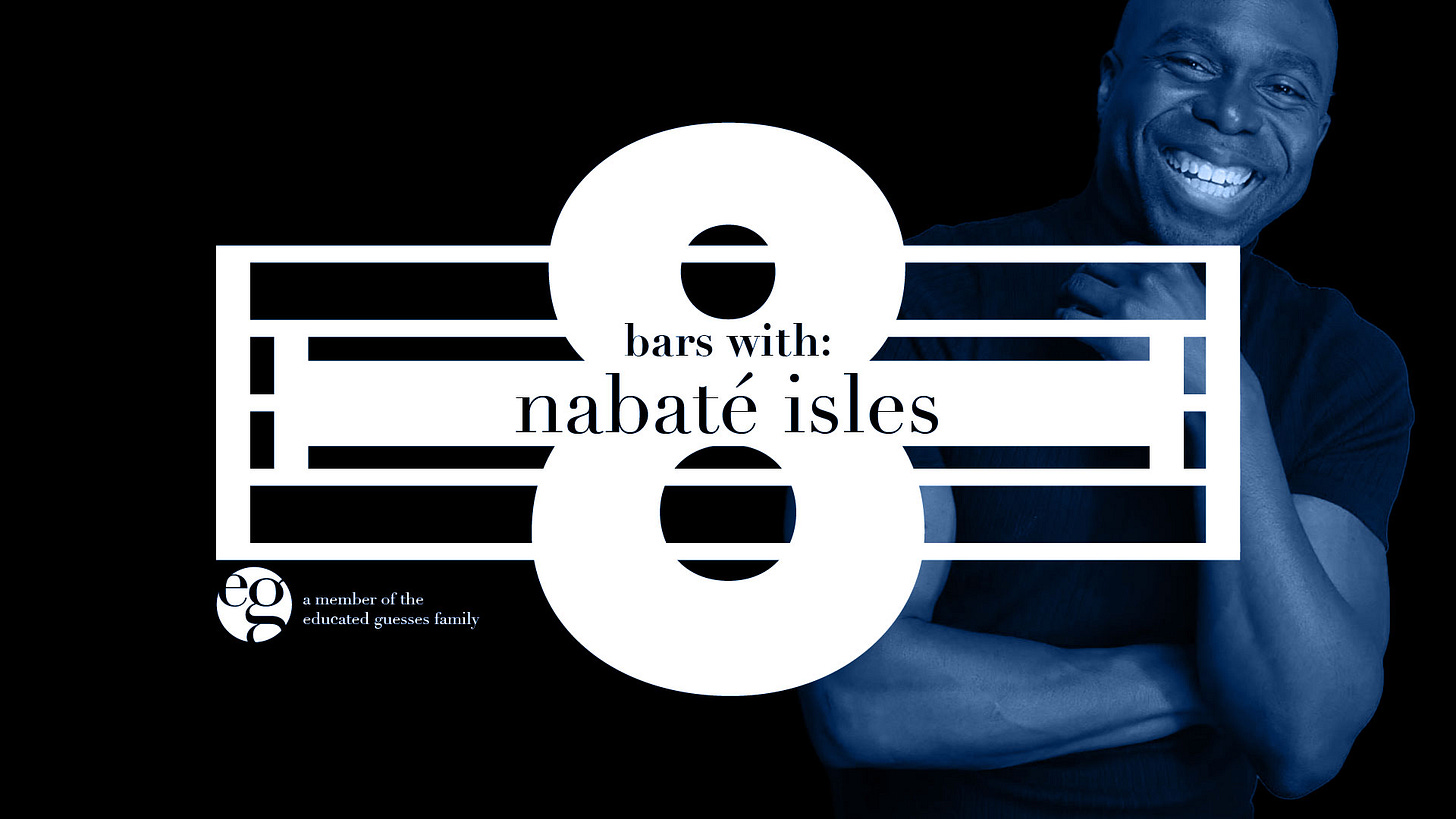 ---
8 bars with is a series on educated guesses where we offer up 8 questions to a special guest for them to ponder and freestyle on.  The questions aren't necessarily questions as much as they are prompts or linguistic ink blots meant to stimulate thought.  The responses can be short and pithy, long and loquacious or somewhere in between. 
---
---
Nabaté Isles is a Grammy-winning trumpeter and composer, born and raised in New York City. Nabaté released his debut album called, 'Eclectic Excursions' in the Summer of 2018.
Nabaté has performed, toured and/or recorded with a plethora of unique artists, including Yasiin Bey (aka Mos Def), Christian McBride, Kenny Lattimore, Philip Bailey, the Mingus Big Band, and the José Limon Dance Company. He composed a solo double bass composition called 'Lessons', which was premiered by world-renowned double bassist James VanDemark at Louisiana State University.
Nabaté appeared in a Coca-Cola commercial, directed by John Singleton. He also provided private trumpet instruction to the actor Rob Brown for his role as trumpeter Delmond Lambreaux on the HBO series, 'Treme'.
Nabaté Isles' broadcasting and production career is just as vast as his music career. He has covered a plethora of sporting events involving the NFL, NBA, MLB, NCAA Basketball, and world boxing championship prizefights. Nabaté co-hosted a SiriusXM boxing show, Going The Distance with the well-respected Teddy Atlas and Wally Matthews. He was featured and consulted with the ESPN 30-for-30 documentary short, '86-32'. Also, he was an accomplished producer for SiriusXM NBA Radio.
As a sports trivia expert, he is the only person to Stump The Schwab on ESPN (Season 2) and be crowned a Sports Jeopardy champion (Season 1, Episode #8), on Crackle.com. He was a co-host on the BROSPod podcast, led by the great sports columnist, Bill Rhoden. Now, he created and hosts his own podcast, 'Whe're They At', which profiles prominent retired athletes. The show has featured numerous Hall of Famers and luminaries like Chuck D, Dr. John Carlos, Chris Evert, Darrelle Revis, Warren Moon, David Robinson, Tom Glavine, Larry Brown, Ferguson Jenkins to name a few.
Nabaté received his BM from the Eastman School of Music (Univ. of Rochester) and his MA from New York University.
---
1. Eastman School of Music?
An experience in which I developed as a musician and a person. Culture shock at first but had a lot of great memories and made lifelong friends. Shoutout to my teacher there, the great Ralph Alessi
2. Sports Jeopardy?
I had a mindset that I needed to not just win but dominate, especially since I was traveling all the way to Los Angeles on my dime. Music helped me win easily, in figuring out the timing of the buzzer, I thought of sixteenth notes. HAHA.  Blessed to have had success on ESPN's Stump the Schwab as well. Shoutout to Howie Schwab.
3. The G.O.A.T. (Basketball)?
Overall basketball career, it's Cap, we know him as Kareem Abdul-Jabbar. The greatest NBA career it's Michael Jeffrey Jordan....he ended my New York Knicks' championship dreams often. Shoutout to Bree Smith, for our great basketball debates.
4. The G.O.A.T. (Trumpet)?
There are so many impactful individuals who have blessed the instrument of the Trumpet I can't answer that. BUT the first trumpeters I started to listening to were Clifford Brown, Pops (Louis Armstrong) and Maurice Andre. Shoutout to my musical father, the great trumpeter Jimmy Owens.
5. Persistence?
A prime example is being a part of the great bassist, Christian McBride's Big Band. I met Christian in 1999 when we played a tune together at the Kennedy Center for the then Thelonious Monk Institute (now named after Herbie Hancock). We would hang out on occasion as sports bonded us and I remember he stated that he was creating a Big Band. When he started the band, I called him a few times to put a bug in his ear. Finally, the persistence of those calls paid off as I've been honored to work in the band for a decade. Shoutout to Brother Mister McB.
6. Podcasting?
Tremendous experience to have extensive conversations with sports legends I grew up watching. And to add Chuck D as a subject was truly an honor, Public Enemy made me a hip-hop fan. Shoutout to Lou DiBella for getting me involved in the sports world.
7. Dream Interview?
There are a few...Mr. Abdul-Jabbar, Willie Mays, Henry Aaron, Quincy Jones and Herbie Hancock top the list. Shoutout to the first Black Quarterback to be inducted into the Pro Football Hall of Fame, Warren Moon (#1 on his jersey) for being my first guest on my Whe're They At podcast!
8. Dream Band?
WOW.....this is a tough one but I'd go with John Coltrane, Wayne Shorter, Eric Dolphy, Herbie Hancock, Ron Carter, Jack DeJohnette and myself (only playing melodies and short solos myself....lol)  Shoutout to my parents, Richard and Barbara for encouraging me to pursue my dreams. 
---
Nabaté on the Internet:
Nabaté received two commissions from the Festival of New Trumpet Music to compose and premiere a new pieces entitled, 'We Need Unity in the Community' and 'Same Strife, Different Life'. A video for the latter is below:
His latest album Eclectic Excursions can be found on Spotify and other streaming services:
The latest episode of his podcast Where They At is on Spotify below:
Nabate's social media links are:
IG: @nsi.universal
Twitter: @NabateIslesSMTA
Facebook: Nabaté Isles Trumpet