Discover more from educated guesses
carefully crafted and curated words, stories and discussions about culture, race, identity, community and family from a family of Guesses. #WordsMatter, #StoriesMatter
8 bars with: mark ruffin
Our guest is program director, broadcaster, producer and author Mark Ruffin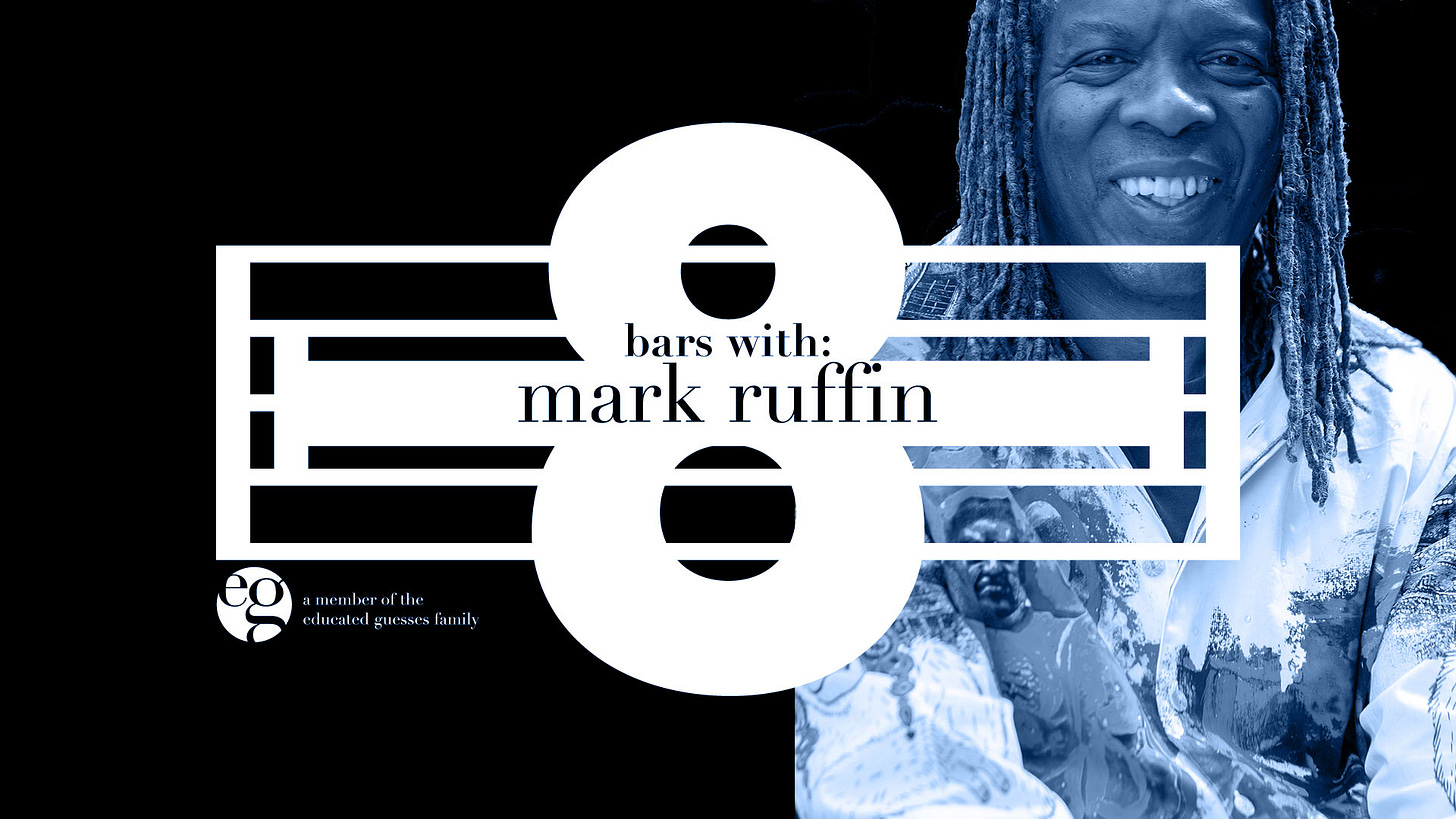 ---
8 bars with is a series on educated guesses where we offer up 8 questions to a special guest for them to ponder and freestyle on.  The questions aren't necessarily questions as much as they are prompts or linguistic ink blots meant to stimulate thought.  The responses can be short and pithy, long and loquacious or somewhere in between.
---
The release of Bebop Fairy Tales: A Historical Fiction Trilogy on Jazz, Intolerance and Baseball coincides with the celebration of Mark Ruffin's 40th year in broadcasting and journalism.
Since 2007, the double Emmy winner and Grammy nominee has been the program director of the Real Jazz channel on Sirius XM Satellite Radio.  Before that he spent over 25 years as a fixture in jazz broadcasting and journalism in Chicago including winning two Emmy Awards for his efforts in bringing stories about jazz to television on WTTW-TV/Chicago
Mr. Ruffin worked for over 25 years as Jazz Editor for Chicago Magazine and has written hundreds of articles on jazz, broadcasting and African-American culture.  His articles have appeared in a variety of local and national publications, including the Chicago Sun-Times, Down Beat, Jazziz, N'Digo, Atlanta Journal-Constitution, Playboy, Ebony and dozens of other publications.
He has produced radio for Oprah Winfrey, Gayle King, Ramsey Lewis, Marcus Miller, Steppenwolf Theatre, Christian McBride and many more.
He has produced music for Rene Marie, Charenee Wade, Giacomo Gates, Lauren Henderson, George Freeman and others.
He is winner of both the Jazz Journalists Association Career Excellence in Broadcasting Award and the Duke Dubois Humanitarian Award from Jazzweek.com.  In 2019 he was honored by Jazzmobile with their NYC Jazz Readers Award.
Mr. Ruffin lives in New York City with his wife Valerie and 5000 cd's. Bebop Fairy Tales: A Historical Fiction Trilogy on Jazz, Intolerance and Baseball is his first book.
---
1. Chi-Town
After 13 years away, I'm still homesick. After I left, my mom, two of my three sisters, and both my brothers all left, so I don't even get to go home for holidays.
2. Hey Mr. D.J.
September 1st marks my 40th year in not just broadcasting, but jazz radio.  I've been lucky and I've known that the whole way.
3. Bebop Fairy Tales
A 17 year labor of love that comes to fruition as my first book, officially September 1st, but it is available already on Amazon.  I can't wait until the conversation starts.  I think it's pretty scathing on some pages in terms of racism in America.
4. Are You Sirius?
Actually I'm Legacy XM.  I was working for Oprah when offered the chance to jump but I had a monetary clause if I lost my job to the merger that made Sirius XM.
5. Raising Black Boys
It's amazing that I have three out of three Black Supermen as boys; a rocket scientist/F-16 fighter pilot, a sports exec who helped build the NBA's G-League before leaving that dream job for an MBA from Harvard and now runs sports digital content for one of the country's biggest entertainment agencies and a free-spirited tech/music workaholic nerd has worked since he was 14 and ALWAYS had at least two jobs; today that includes going on maybe 10 years at Verizon and running content for the Las Vegas Symphony Orchestra.
Of course I'm proud, but I hardly did it alone.  It was truly a village.  Two of my biggest contributions
* Giving them aspiration early; The oldest wanted to go to Mars at five after seeing the shuttle crash, the middle one was writing code when we were still using cassettes and dialing up with modems, then won a Chicago Music Award as a teen, and the youngest told me at 7 or 8 that he was going to be the general manager of the Chicago Bulls.   In retrospect it's easy to see the blueprint for all three was laid early.  
* Telling them that despite the hypocrisy and racism in this country that the founding fathers ideas were sound and that in the U.S. they could do anything they wanted in life if they worked hard, got good grades, stayed legal and showed up every day.
But the ONLY real advantage that they had over other children was that United Airlines was their personal chauffeur, as their mom was a flight attendant.  I believe more than anything that was their (pardon the pun) passport to a great life.  That's why I tell musicians and any aviation worker about my boys, travel opened their minds.
6. Song Most Played
I would've been done much quicker if not for the next two questions.  If I had to force an answer it would either be "More Love" by Smokey Robinson or "That's The Way of the World," by Earth, Wind & Fire.  In jazz, probably "My Favorite Things," John Coltrane.
7. Most Memorable Moment in Music
Being the Voice of God for the very first International Jazz Day concert at the United Nations, which included doing the announcing while standing not on stage, but in the middle of the General Assembly room.- I could give ten highlights from just that rehearsal and final show, like standing with Morgan Freeman watching Stevie and Chaka teaching an unbelievable group of all-star singers the words to "As," as George Duke, Herbie et, al looked on.
8. Your Better Half
Never met anybody like her.  I went 25 years in between marriages.  Those years taught me what  I like and what I didn't like.  She kept checking all the boxes
---
If you haven't already please click the button below to subscribe.
#EG-8barswith