Discover more from educated guesses
carefully crafted and curated words, stories and discussions about culture, race, identity, community and family from a family of Guesses. #WordsMatter, #StoriesMatter
8 bars with: larry muhammad
Our guest is playwright, producer and former journalist Larry Muhammad.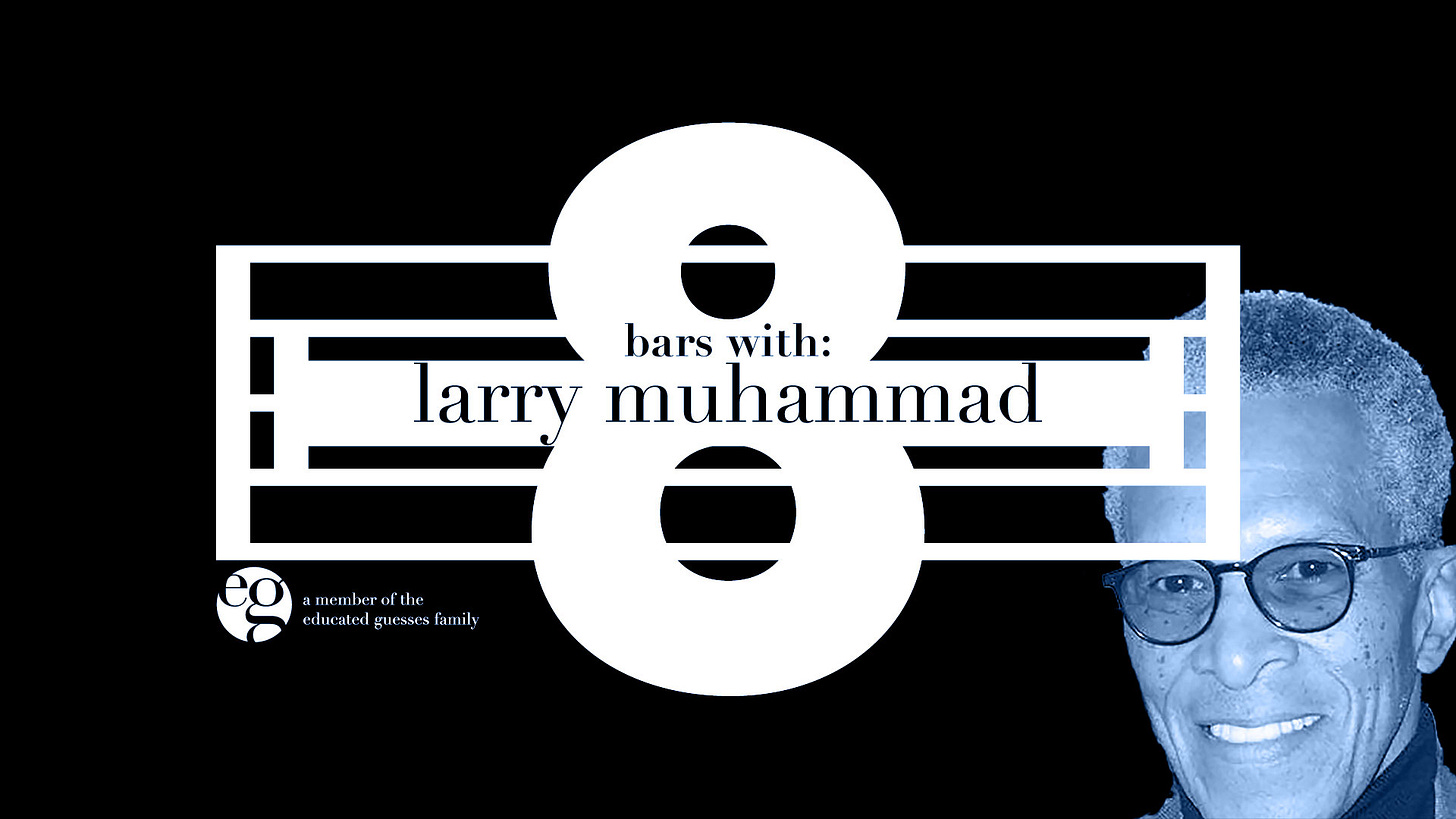 ---
8 bars with is a series on educated guesses where we offer up 8 questions to a special guest for them to ponder and freestyle on.  The questions aren't necessarily questions as much as they are prompts or linguistic ink blots meant to stimulate thought.  The responses can be short and pithy, long and loquacious or somewhere in between.
---
Larry Muhammad is an award-winning playwright and producing director of Kentucky Black Repertory Theatre. His plays have been performed in New York at New Federal Theatre; in Los Angeles at Robey Theatre Company; in Louisville, KY at Actors Theatre, Kentucky Center for the Arts, Speed Art Museum, and Muhammad Ali Center; in Cincinnati, OH at the Aronoff Center; and the National Black Theater Festival in Winston-Salem, NC.
Born in Memphis, Tennessee, Larry had an extensive journalism career before going into theatre and was published in the Black Panther, Muhammad Speaks, Chicago Tribune, Chicago Reader, Chicago Defender, The Nation magazine, Columbia Journalism Review, Gary Post-Tribune and Courier-Journal in Louisville, Kentucky.
---
1. Muhammad Speaks?
…is the newspaper that turned me into a professional writer
2. Journalism?
… is a noble profession in which you are paid to write stories.
3. LeRoi Jones?
… is a 20th century literary sensation and the father of Black Theatre, also known as Amiri Baraka.
4. Why plays?
…because they are collaborative and one of the oldest arts that are performed live before an audience.
5. Memphis?
…is where all the pimps and hustlers come from and where you get the blues.
6. Louisville?
…is a nice livable city as long as you don't mentally unpack.
7. I write when?
…I have a deadline to meet.
8. Legacy?
…professionally speaking if there is one -- not for me to say. Plus I won't care; I'll be dead. And in terms of some financial inheritance going to my offspring, not much to speak of there either.
---
Check out Larry and KY Black Repertory Theatre on Facebook.
Below is a list of his most recent plays:
Looking for Leroy A young theatre intern debates with his literary hero the fundamental questions of the artform, examine the fungible nature of aesthetics, question whether artistic expression is ever nonideological and weight the added responsibility of artists of color. In homage to LeRoi Jones/Amiri Baraka. Produced in 2019.
Derby Mine 4 – Miners trapped underground after a methane explosion crawl to safety through miles of dark tunnels following their African-American team leader, rare in the pits nowadays, in this reflective new drama about the mining life as the coal industry declines; Self-produced in 2018
Jockey Jim – An old black stable hand haunted by ghosts of his past as a Kentucky Derby-winning rider uses superior horsemanship to reclaim a forgotten legacy. Based on the life of Jimmy Winkfield; Self-produced in 2013  and excerpt produced in 2018
"Double V" – A crusading black newsman during World War II helps persuade President Harry Truman to desegregate the military. Based on the career of Frank Stanley, Sr. Produced in 2018
Muhammad has written the book and lyrics for two musicals. They are:
Sweet Evening Breeze – A famous drag queen goes undercover to trap a gay predator who is blackmailing college athletes to throw games in a betting scam. Based on the life of James Herndon; Produced in concert 2020
Buster! – A gadfly activist on a preposterous religious quest brings social justice to his conservation Southern hometown. Based on the life of Rev. Louis Coleman. Self-produced in 2014
---
If you haven't already please click the button below to join our mailing list or subscribe.
#EG-8barswith