Discover more from educated guesses
carefully crafted and curated words, stories and discussions about culture, race, identity, community and family from a family of Guesses. #WordsMatter, #StoriesMatter
8 bars with: jo ann james
Our guest is the inimitable Jo Ann James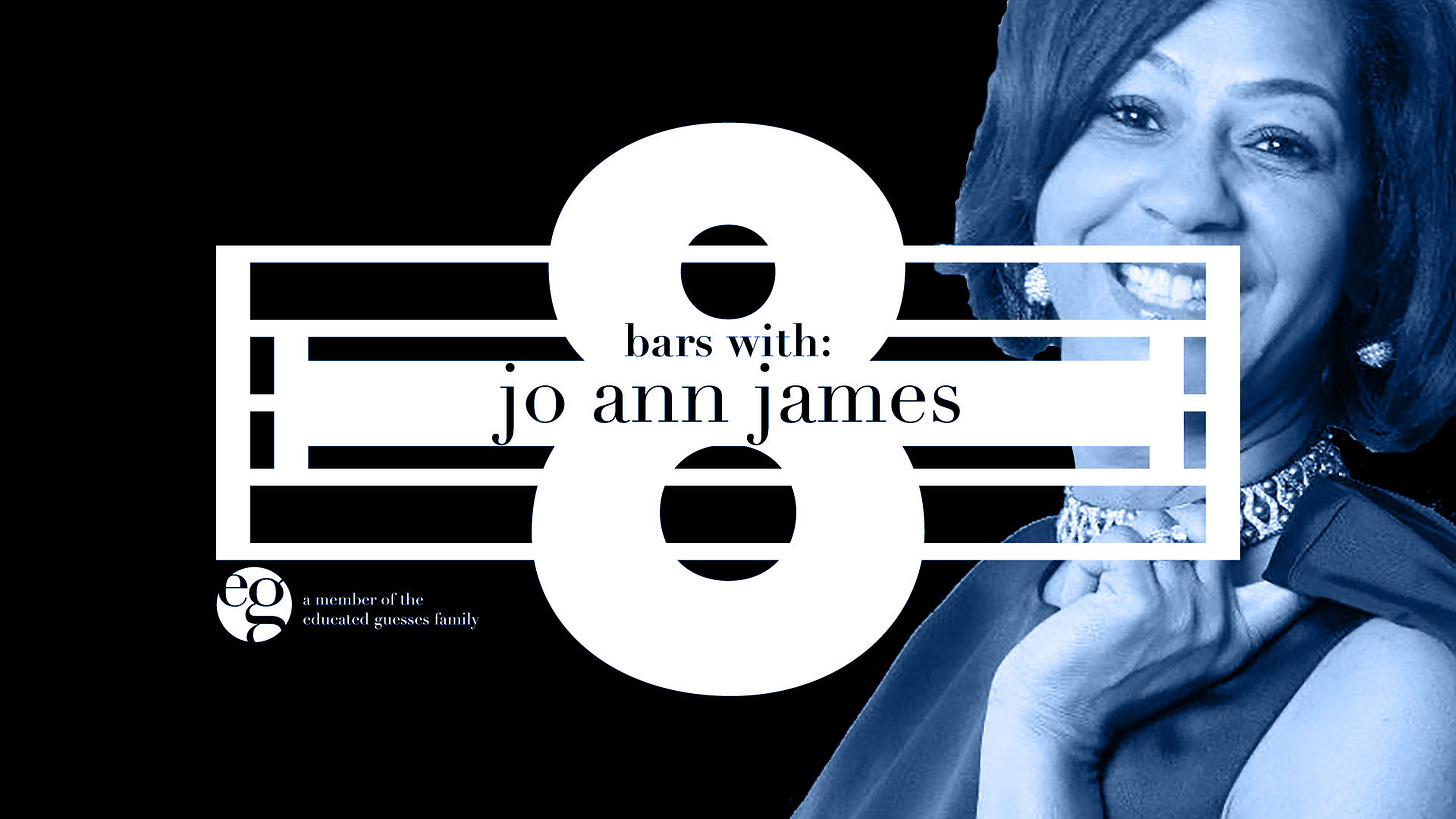 ---
8 bars with is a series on educated guesses where we offer up 8 questions to a special guest for them to ponder and freestyle on.  The questions aren't necessarily questions as much as they are prompts or linguistic ink blots meant to stimulate thought.  The responses can be short and pithy, long and loquacious or somewhere in between.
---
Jo Ann James is a multi-faceted woman with a treasure trove of talents. The list of her educational, professional and personal accomplishments is both long and impressive. In an attempt to be brief – out of the plethora of words that can be used to describe Jo Ann, a fitting encapsulation of her talents can be found in the two-word title of the profession, as well as in her maiden name.   
Mrs. James is a social worker. Anyone who has had the pleasure of being in her presence for more than a minute knows that she is a social being with a free and loving spirit. Jo Ann has truly never met a stranger.  Also, those who know Jo Ann can attest to the fact that she is an extremely hard worker.  She will do whatever it takes to get the job done no matter how daunting or menial the task.  She has conjoined her love of people with her untiring work ethic to excel in her professional career at the Jefferson County Public School System.  She retired two years ago after 30 years, but hasn't slowed down one bit as she continues to pour herself into her service as First Lady of Elim Baptist Church where her husband Reverend Vincent E. James, Sr. is Pastor.
Jo Ann's maiden name is Childs.  In her role as a social worker, Mrs. James always placed a priority and a premium on protecting children and families.  She recognizes the importance of such advocacy as a proud mother of three adult children Joey, Vincent Jr., a beautiful daughter Carol and a grandson, Harrison.  But, probably the best and most fitting description of Jo Ann James is that she is first and foremost a child of God.
---
1. That wife life?
32 years and counting. It's a  life style for me.
2. Sister to Sister?
I am my sister's keeper.
3. First Lady?
Only in the Black Church is this role honored.
4. A house is not a home?
Luther Ronzoni Vandross Jr. (April 20, 1961 - July 1, 2005)
5. Mental health?
Everyone needs a yearly check-up with a professional.
6. Never would have made it?
Without God
7. Children are our future?
We need to prepare them for the future #BlackLivesMatter
8. Elim the Oasis?
3114 Greenwood Ave. Louisville, Kentucky 40211
---
A couple of bonus bars:
9. Mother the sequel?
Every family needs a Big Mama.

10. Pomp and Circumstance?
All school age students need this on their playlist.
---
If you haven't already please click the button below to subscribe.
#EG-8barswith