Discover more from educated guesses
carefully crafted and curated words, stories and discussions about culture, race, identity, community and family from a family of Guesses. #WordsMatter, #StoriesMatter
8 bars with: jenny campbell
Our guest is educator, entrepreneur, wife, mother and youth advocate, Jenny Campbell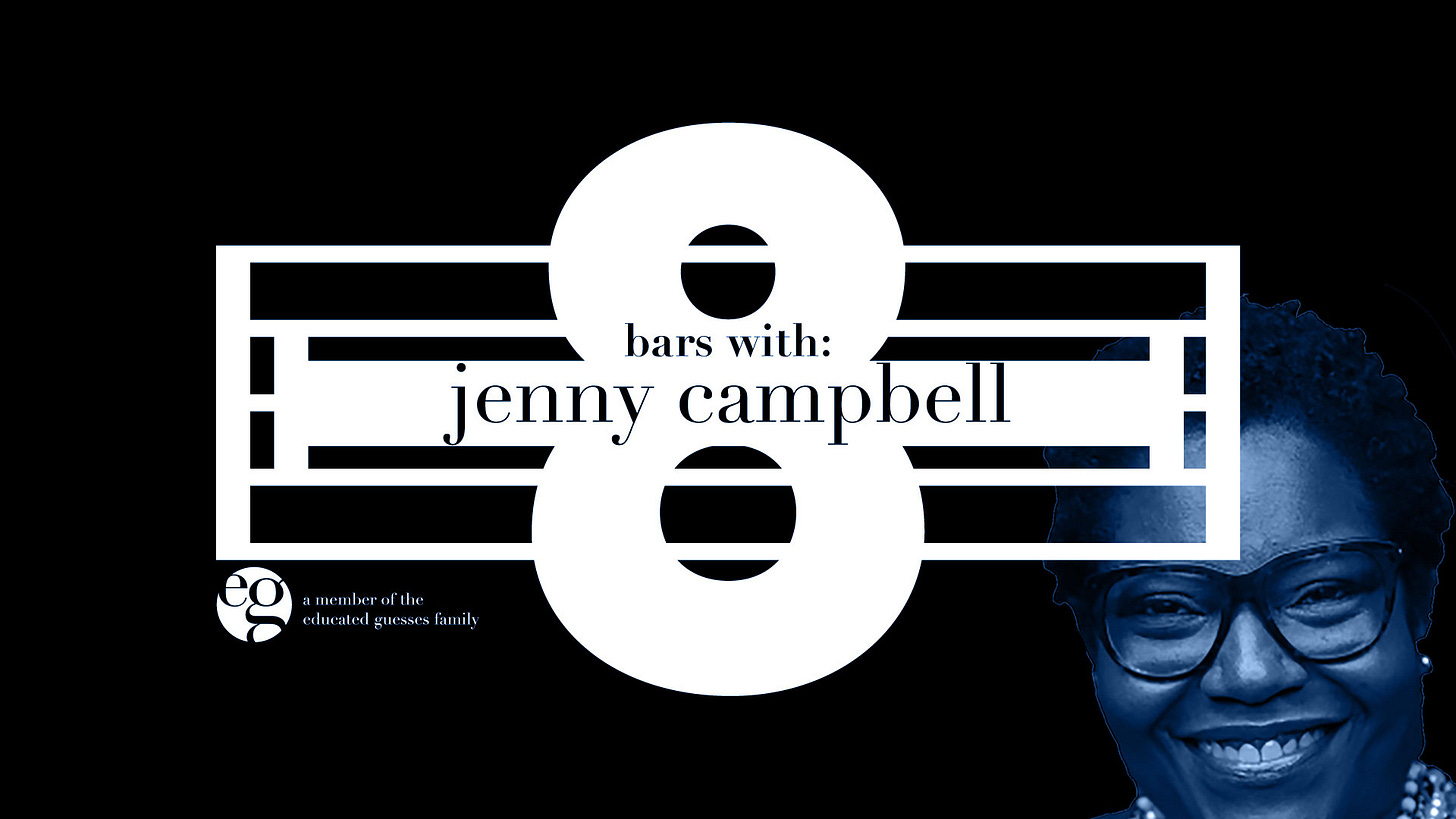 ---
8 bars with is a series on educated guesses where we offer up 8 questions to a special guest for them to ponder and freestyle on.  The questions aren't necessarily questions as much as they are prompts or linguistic ink blots meant to stimulate thought.  The responses can be short and pithy, long and loquacious or somewhere in between.
---
Jenny Campbell is an educator, entrepreneur, wife, mother and youth advocate. She is a lifelong learner. She uses education to empower adults and children in all aspects of their lives. She has devoted most of her adult life and professional career to education and empowerment of youth. She works with Retention Strategies Unlimited, an organization that helps to prepare students for college. She is also branching out and embarking upon a new and exciting phase of her professional career as an entrepreneur. She is as an independent travel agent and is working on other exciting projects that will launch in the near future.
---
1. Mama Lion
I will fiercely protect my children and ALL children. Don't mess with the kids! 
2. Pieces of Peace
My first set of real sisters. A safe space to be freely and, unapologetically a woman in whatever form you show up on that day in time. 
3. Just Dance
Music is life and dance is its air. Let life take you wherever the air lifts you. 
4. Education is the Key
You can take away my possessions. But, you can6t have my mind unless I CHOOSE to give it to you. 
5. Sunday Dinner
Family. 
6. Trini
Trini To De Bone! The sea slappin' on your every crevice. Soca movin' yuh waist like the waves. Food sweetah dan cyandi. 
7. Mental Health
You have one mind. Be good to it. Acknowledge when it's sick and call 911. 
8. I Am Not My Hair
Cut it off and start over. 
---
One for the road:
9. I can do all things through Christ who strengthens me.
I trust and believe in all that He promised. I am grateful for all His blessings. No matter what. I can endure and conquer anything.
---
Listen to Jenny on a The Pivot Syndicate podcast.
---
If you haven't already please click the button below to subscribe.
#EG-8barswith