Discover more from educated guesses
carefully crafted and curated words, stories and discussions about culture, race, identity, community and family from a family of Guesses. #WordsMatter, #StoriesMatter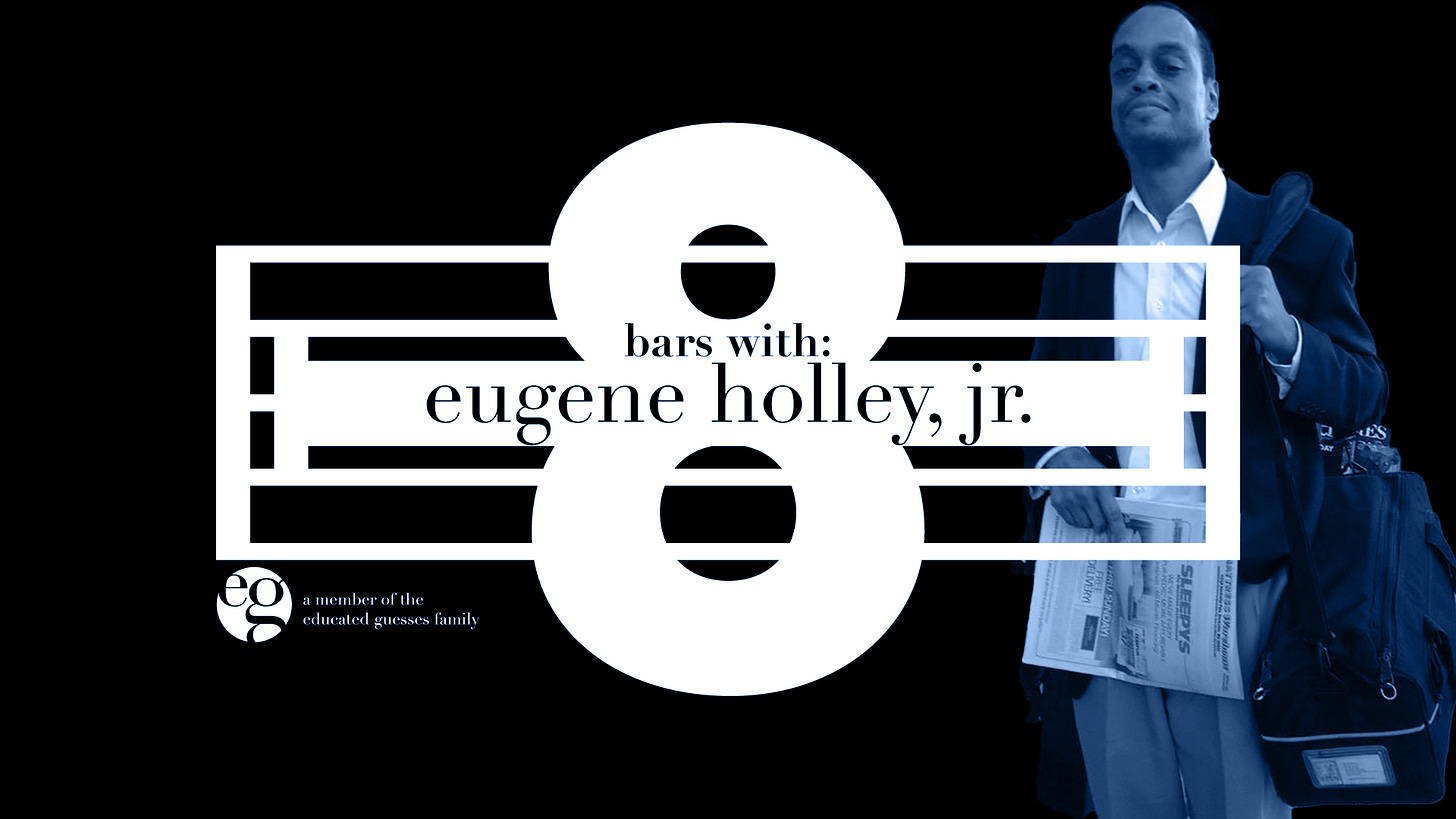 ---
8 bars with is a series on educated guesses where we offer up 8 questions to a special guest for them to ponder and freestyle on.  The questions aren't necessarily questions as much as they are prompts or linguistic ink blots meant to stimulate thought.  The responses can be short and pithy, long and loquacious or somewhere in between.
---
Eugene Holley, Jr. is a Wilmington, DE-based journalist specializing in jazz, culture, the visual arts and science. He currently writes for Down Beat, Publishers Weekly and Hot House Jazz magazines. He has also contributed to JazzTimes, Jazziz, Vibe, NPR, New Music Box, The Village Voice, and The New York Times Book Review. 
---
1. Reading Books?
The most essential activity for becoming a writer.
2. Reviewing Book?
The reviewer is the intermediary between the author and the reader.
3. Listening to Albums?
Was more of a special ritual decades ago.
4. Reviewing Album? 
Much easier in the digital age.
5. Howard University?
The Mecca, Wakanda for real.
6. Your homeboy Uncle Joe?
He will put my state on the map.
7. Favorite quote?
"I am a man, I consider nothing that is human alien to me." Terence the African.
8. Quarantine lessons learned?
Common sense ain't common.
---
One more for good measure:
9. History taught us, we forgot?
History teaches us the racism is real. We forget that race as a scientific fact isn't real.
---
If you haven't already please click the button below to subscribe.
#EG-8barswith