Discover more from educated guesses
carefully crafted and curated words, stories and discussions about culture, race, identity, community and family from a family of Guesses. #WordsMatter, #StoriesMatter
8 bars with: dj johnson
Our guest is former NFL player, broadcaster, actor, fitness coach, activist and motivational speaker DJ Johnson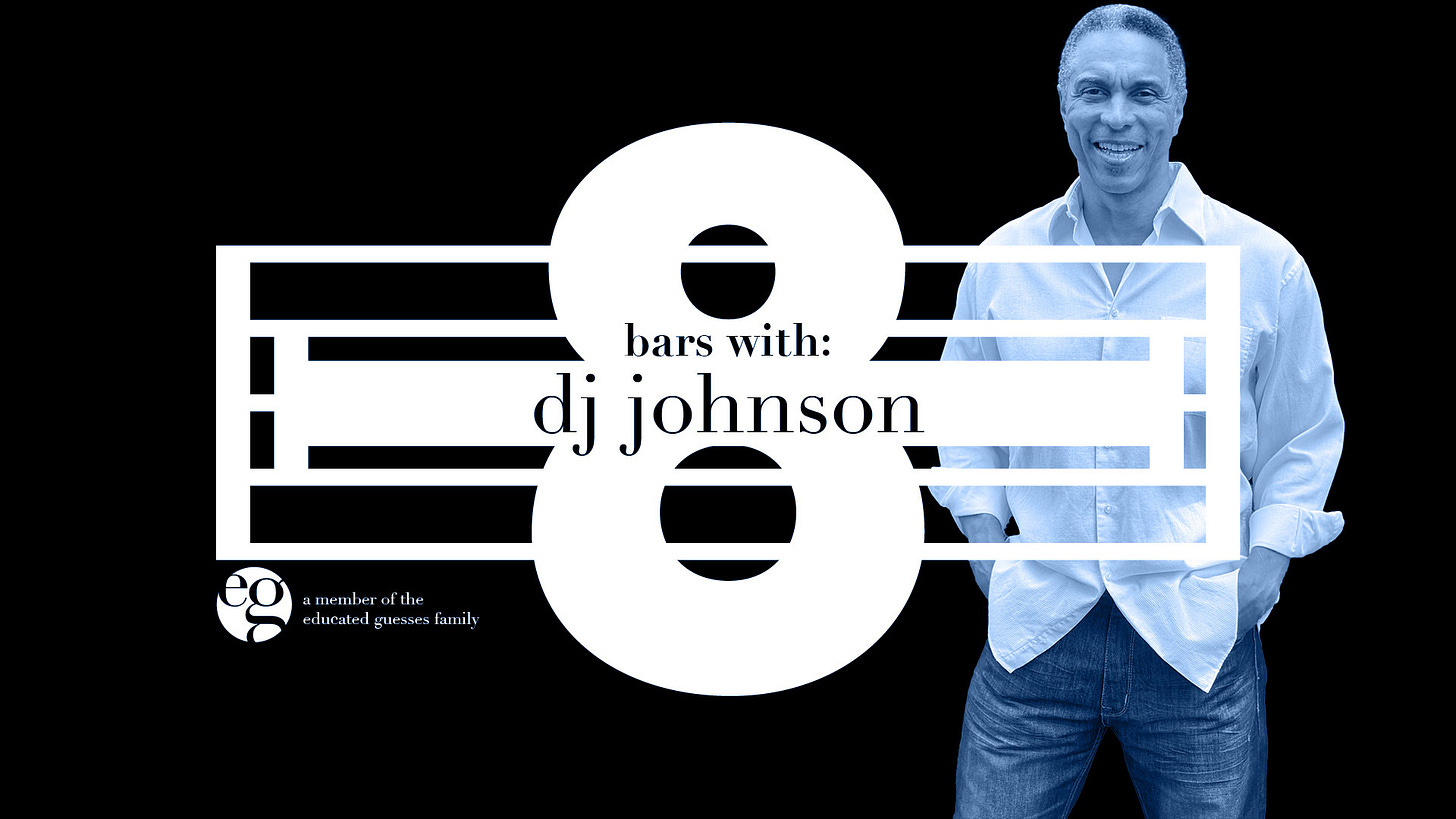 ---
8 bars with is a series on educated guesses where we offer up 8 questions to a special guest for them to ponder and freestyle on.  The questions aren't necessarily questions as much as they are prompts or linguistic ink blots meant to stimulate thought.  The responses can be short and pithy, long and loquacious or somewhere in between. 
---
---
DJ Johnson graduated from the University of Kentucky where he was MVP of the football team. In 1989 he was drafted into the NFL by the Pittsburgh Steelers where he played for 5 years.
After Pittsburgh, DJ signed with the Atlanta Falcons where he spent two years. While a member of the team, he created Vets for Vets, a charitable organization providing funds and supplies to military veterans. 
After Atlanta, DJ played one year with the Arizona Cardinals before wrapping up his eight-year NFL career.
After football, DJ became a TV broadcaster for, among others, Fox Sports, as part of the legendary #1 NFL broadcast team of John Madden and Pat Summerall. 
DJ eventually achieved success in a variety of entertainment fields, as a writer, model, TV host, and actor.  He has starred on the long-running soap opera As The World Turns, and guest starred on General Hospital.  He has also co-starred on a variety of popular TV shows including, CSI: Miami, Malcolm in the Middle, Star Trek: Enterprise, Bones, and many others.  DJ has also starred in TV commercials and print ads for Lexus, Mercedes, Verizon, and others.
DJ now spends time as a sports and fitness coach/spokesperson, social activists, and motivational speaker.  He is the co-host of Know You Don't Podcast, which is also available on YouTube.  
Recently DJ has invented and patented a cognitive-based athletic training system that will debut in the market late 2020 or early 2021.
---
1. The next thing you know...?
Ol' Jed's a millionaire.  But Jed's not as rich as us, because we have a circle of friends that is still cool after 40 years, and that's worth all the money in the world.  Wise up; be wise; and choose your friends wisely.
2. Dear Old High School?
Blast times at Dear Old High. Concession-stand burgers cooked at home, squirrels on your back, student exchange, a hell of a lot of football, and...who's Carl?  When you go to the best high school in the country, these things sometimes come with the territory.  You never know which memories will endure from high school.  I can't tell you a single thing about prom, but I can tell you about missing yearbooks, two cargo movers, and a sleuthy vice principal on a stake out in the library.
3. Un-Happy Chandler?
A synonym for 'we hear you, we feel you, and we promise meaningful action to assuage our pain.........PSYCHE!!'  A tried and true, good ol' American strategy to extinguish a flame before it becomes a fire.  
4. What yinz doing?
It's like Toto and I were cruising along, and the monster twister just swept us away.  One day I'm surrounded by hillbillies and hotdogs in Kentucky, and literally, the next day I'm in a world of Poles and perogies in Pittsburgh.  Y'all gave way to yinz; blue grass gave way to steel; Incompetence in teaching gave way to excellence in teaching; and cellar dwelling gave way to championship pedigree.  One day I was one of many nylon strands woven into a doormat on which others wiped off their cleats, the next day I had on the cleats looking for a doormat.  There was no way I was clicking my heels together and ever going back.
5. As the World Turns?
You gotta turn with it.  The world can be a fun merry-go-round, as you travel in a circle, going up and down in a slow, wave-like motion, taking in everything around you; or the world can be like a Gravitron, spinning at dizzying speeds leaving you plastered to the wall, unable to move, with a stupid look on your face and barely unable to remember your own name.
6. It's a Madden World?
I've never in my life played a Madden video game.  Not once.  But I can tell you, a season on the road with the legendary broadcast team of John Madden and Pat Summerall was more entertaining than a Superdome-sized video arcade.  For all the laughing, joking, and broadcast shenanigans they were known for, they were two of the most intelligent and sincerely caring people I've ever known.  Their broadcast excellence was a blatant manifestation of those qualities, as well as a passion for sports and the athletes who played them.  Intelligence, caring, and passion can be a winning formula for everything we do.
7. To kneel or not to kneel?
Yes, that is the question.  The answer depends on who's kneeling.  If you've been kneeling for four years, or you at least knelt four years ago, then your carrying on a protest.  If you're kneeling four years and wide acceptance later, then kneeling is mere symbology.  It's like the scene in 'Gladiator':
The heroic but war-weary Roman general, Maximus (Russell Crowe), is standing before his men, having just secured another bloody victory for Rome.  Soon, Commodus (Joaquin Phoenix) rides in valiantly, after the war has ended, and ask his father, Roman Emperor Marcus Aurelius (Richard Harris), "Have I missed it?  Have I missed the battle?" while feigning disappointment that he has done so.
To which Marcus Aurelius replies, "You have missed the war."  
The players kneeling now haven't quite missed the war, because it continues, but they have surely missed major battles.  It's a lot less valiant when permission has been granted, and, in fact, the act is being encouraged, staged, scripted, and marketed.
'Gladiator':
Once Commodus receives the reply from his father, he responds, "Father, congratulations.  I shall sacrifice a hundred bulls to honor your triumph."
Marcus Aurelius, fully aware that Commodus is full of &#!t, and clearly uninterested in continuing the conversation with his purposely-late son, simply replies, "Save the bulls, honor *Maximus.  He won the battle." 
Save the bull!  Great message!
*Maximus = Kaepernick.  
8. Know You Don't?
Sometimes I think I know but know...I don't.  Sometimes you think you know but know...you don't. 
Hmm, Know You Don't.  Know You Don't.  What a great name for a Podcast!
Wait a minute!  Hold the phones! 
What if there was a podcast that discussed everything, no matter how third rail-ish the subject matter happened to be?  
And what if that podcast was hosted by a free-spirited former NFL player, actor, broadcaster, model, motivational speaker, fearless activist, and his life partner, a woman of science, who holds a masters in nutrition, is an author. fitness professional, fitness champion, dietetic technician, former NBA Dancer, motivational speaker, fearless activist, and newly minted mom?  
And what if we called it, Know You Don't Podcast, and made it available on Apple Podcasts, Spotify, and YouTube?
---
The latest episode of Know You Don't podcast on Spotify is below:
The episode on YouTube is below:
DJ's social media links are:
Instagram: @dj44mula
Twitter: @d44jmula
Know You Don't Podcast:
Instagram: @knowyoudontpodcast