Discover more from educated guesses
carefully crafted and curated words, stories and discussions about culture, race, identity, community and family from a family of Guesses. #WordsMatter, #StoriesMatter
8 bars with: christian mcbride, part i
Our guest is six-time GRAMMY Award winning bassist, bandleader, composer, artistic director and radio host Christian McBride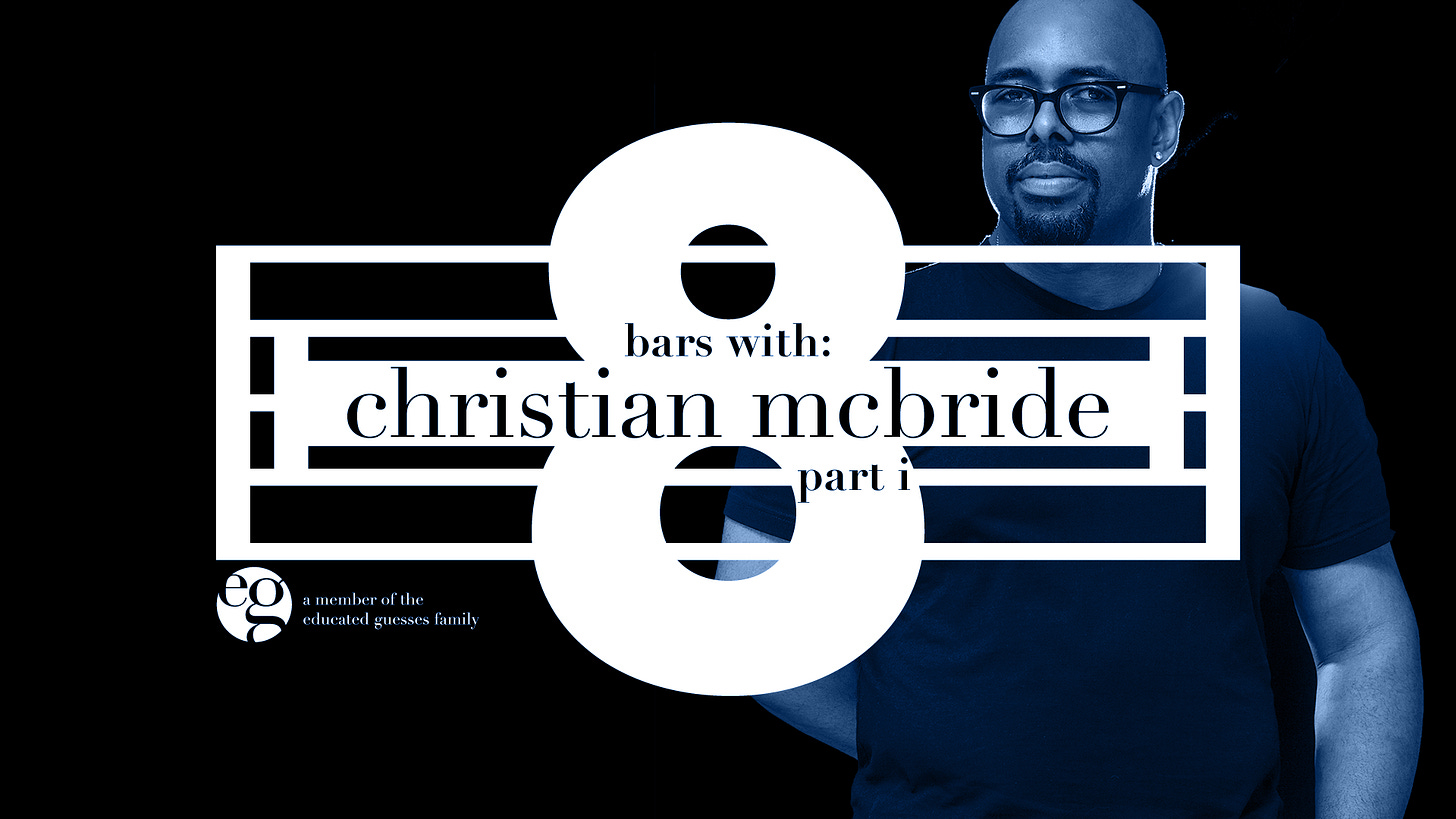 Photo by Anna Webber
---
8 bars with is a series on educated guesses where we offer up 8 questions to a special guest for them to ponder and freestyle on.  The questions aren't necessarily questions as much as they are prompts or linguistic ink blots meant to stimulate thought.  The responses can be short and pithy, long and loquacious or somewhere in between. 
Christian McBride is a six-time GRAMMY Award winning bassist/composer, host of NPR's Jazz Night in America and The Lowdown: Conversations with Christian on Sirius/XM and the Artistic Director of the Newport Jazz Festival.

Since the early 1990's  he has performed with a veritable who's who list of artist from various genres and has recorded on over 300 dates as a both a leader and  sideman.  Aside from his role at Newport, McBride has been artist-in-residence and artistic director with organizations such as Jazz House Kids, Los Angeles Philharmonic, The Jazz Museum in Harlem, Jazz Aspen and NJPAC (New Jersey Performing Arts Center - Newark).

His new Big Band record "For Jimmy, Wes and Oliver", a spirited tribute to jazz icons Jimmy Smith, Wes Montgomery and Oliver Nelson will be released on Christian's Brother Mister Productions imprint on Mack Avenue Records on September 25th.
---
1. James Brown?

Explaining why James Brown means so much to me and to American music in general is like explaining why water is so crucial to the human body. I don't love James Brown's music simply because it's danceable, but James Brown's music has always given me a feeling of strength. Things that would otherwise be a challenge in life don't feel like so much of a challenge when I hear JB's music. His music has always created a virtual force field around me. Makes me feel like I have super human strength. When I first heard one of his records, I was probably six or seven years old and his sound got to me right away. Mind you, I was six in 1978 and James Brown was hardly in fashion in 1978 as it was the peak of the disco era. But something about that raw, unfiltered, brown funk got into my system more than disco. Everyone from Michael Jackson to Prince to Usher to Bruno Mars and all of hip-hop have taken something from James Brown. His sound will outlast all of us.

2. Ray Brown?

From the time I first started playing the acoustic bass at age 11 to age 18, I was a Ron Carter worshipper. I tried my best to do everything like Ron Carter. I not only copied his basslines, but I tried to copy his posture, his sound, hand position, breathing habits, and I even saved up to buy the black LaBella nylon bass strings that he used. That is, until the first time I saw Ray Brown perform live at the Blue Note in New York in 1991. It was an epiphanous experience. He had the most voluptuous natural sound I'd ever heard. Even though he was playing straight-ahead, swinging jazz, his pulse didn't feel that dissimilar from the pulse I felt on James Brown's records. His swing was so powerful. Between the sound, the pulse, the feel, and most importantly, the joy he emoted when he played, I instantly became a Ray Brown lifer. His taking a liking to me and becoming a mentor and someone I collaborated with frequently, is something for which I will be eternally grateful.

3. Kind Of Brown?

As you can see, the word - and color - Brown mean a lot to me. Not only are Ray Brown and James Brown two of my greatest influences, but I deeply love brown people and brown culture. You see, being a "black" person is a state of mind, a concept. But we are all, literally, brown people. We are shades of brown. But, of course, brown can be a concept, too. If this music known as jazz is a Black American art form, then, to me, the feel of Black music is actually brown. Make sense? 😊 Swing rhythms, funk rhythms, ska and reggae rhythms and Latin rhythms, which are all anchored in African rhythms, are all "brown" rhythms to me. Thus, the title of my first album for Mack Avenue Records, "Kind Of Brown." It's of the earth, it's organic, it's brown.

4. Brown Mark?

Brown Mark, who's birth name is actually the opposite, I first discovered, like most in my generation, as a member of Prince's band, The Revolution. If, in 1984, you were reaching puberty or adolescence, "Purple Rain" was probably (but prohibitively) your favorite movie...for a few reasons: Prince, Wendy, Lisa, Billy Sparks, Morris Day, Jerome Benton, The Time, Apollonia purifying herself in the waters of what she thought was Lake Minnetonka, and so much more. The movie was deeply touching and memorable. But enough about Apollonia. 😂 1984 was an exciting year, as it was the year of Purple Rain's release and The Jacksons' "Victory Tour." I was paying close attention to who played bass in both bands. Brown Mark with The Revolution and Jermaine Jackson with his brothers. Now that Brown Mark has authored a brand new book, "My Life In The Purple Kingdom," I look forward to seeing how he existed in a band that to me at that time, didn't seem too bass heavy.

5. Jim Brown?

The baddest man ever to lace up a pair of cleats. To me, Jim Brown is like Charlie Parker. A level of skill and majesty that will likely never be matched. So much of what he accomplished on and off the gridiron is beyond admirable. His career is what every athlete strives for - to retire young and on top of their game. When Jim Brown retired from the NFL just before the start of the 1966 season, he was the NFL's all-time leading rusher - a record that he set in just nine seasons. It was a record that stood for 19 years. After his retirement, he became a prominent activist, businessman and movie star. I believe it's rare that you have someone who is unanimously considered the greatest in any field by their elders, their contemporaries and their successors. Yes, Michael Jordan is one, but the first all-around Superman I ever knew was Jim Brown.

6. Keith Henry Brown?

I met Keith in 2009 through the gentleman at the helm of this platform, Andre Guess. As jazz historians, many of us realize that when making an album, a musical aesthetic isn't the only aesthetic to pay attention to. A visual aesthetic is important as well. The music recorded on labels like Blue Note, Prestige, Impulse, Verve, ECM and CTI was obviously legendary, but the look of the album covers and the label logos were just as legendary. For that reason, it's been wonderful to have Keith design the artwork for the majority of my recordings on Mack Avenue Records. Keith Henry Brown is a bad, brown brother.

7. Donald Brown?

I don't say this lightly, but Donald Brown could be the most colossal, unsung hero in jazz since the 80's. Starting in 1977 and through the mid 80's, the jazz world saw a wave of skilled, creative and fiery young pianists come along like Kenny Kirkland, James Williams, Mulgrew Miller, Geri Allen, Benny Green, Michelle Rosewoman, Renee Rosnes, Cyrus Chestnut, Harry Pickens and Marcus Roberts. Arguably, the most influential of this crop turned out to be Kenny Kirkland, Mulgrew Miller and Geri Allen, but the one person who every single one of these pianists agreed was a double threat as a pianist and prolific and advanced composer, is Donald Brown, aka Silk. Silk's music was central to the sound of an era, as his music was played by Art Blakey and the Jazz Messengers, Wynton Marsalis's groups, the Terence Blanchard/Donald Harrison Quintet, James Williams's groups and more. We always celebrate the music of Ellington, Monk, Silver, Shorter, Corea, etc; but there's not a musician today that would take issue with Silk's name being in that roll call. Since the early 90's, Donald has kept a relatively low profile running the jazz studies program at the University of Tennessee, but he is still a powerful voice in our music.

8. What Can Brown Do For You?

If you're brown, you're black
If you're black, you're brown
Brown can also be blue, too.
But Black, brown and blue don't have to be a hue
You are a hue, so be you
Just be true, so we know what hue is you.
But to be down, to hang around, to be sound,
You gotta be brown.
If you ain't down, but wanna be found,
You at least gotta embrace and accept brown.
You can find brown in town,
You can find brown in your brew, your stew,
and if you really down with brown,
you'll find it in your crew.
That's what brown can do for you.
---
If you haven't already please click the button below to subscribe.
#EG-8barswith