Discover more from educated guesses
carefully crafted and curated words, stories and discussions about culture, race, identity, community and family from a family of Guesses. #WordsMatter, #StoriesMatter
8 bars with: allyson wynn
Our guest is entrepreneur, business owner and event planner, Allyson Wynn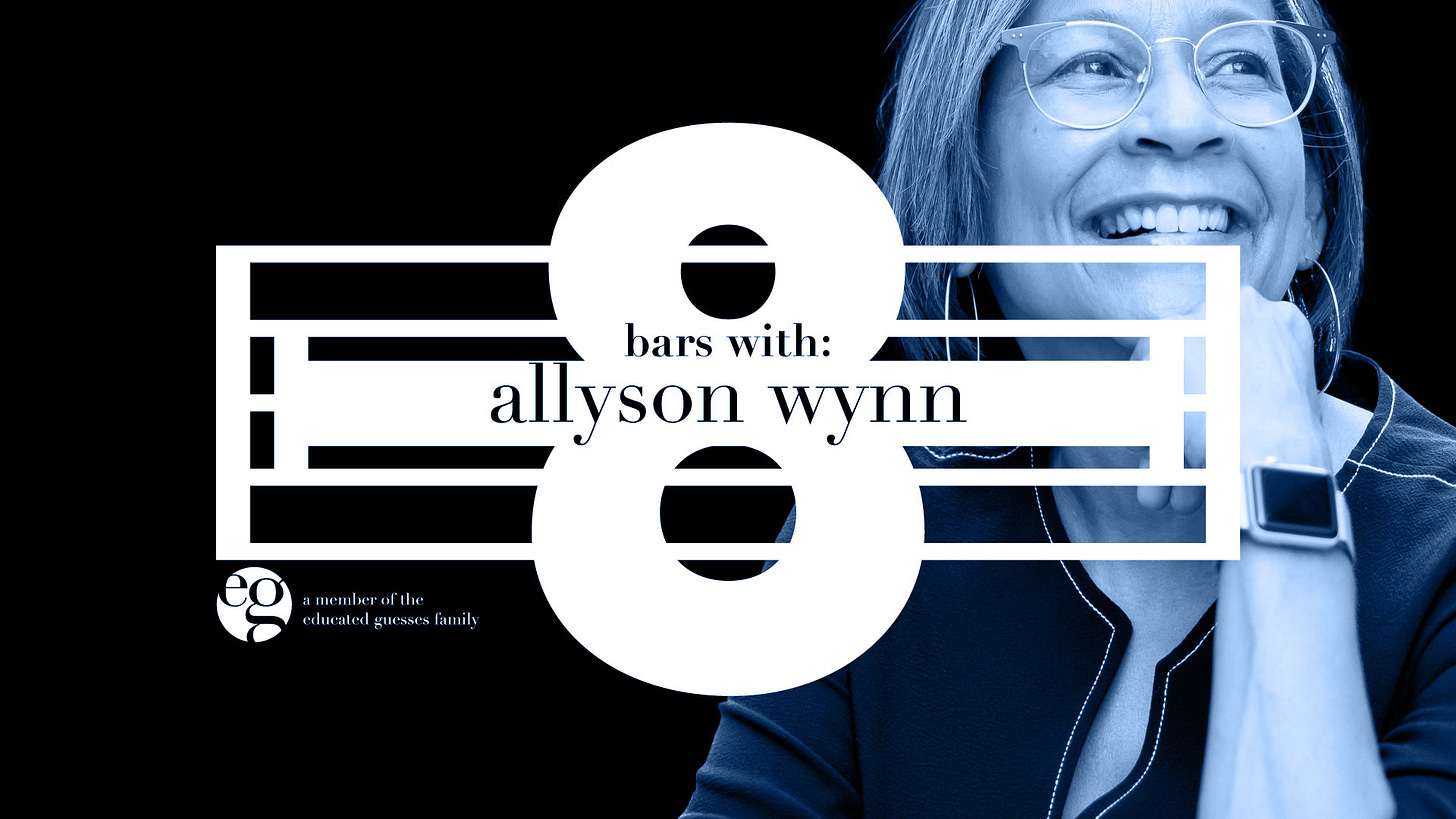 Photo by Lindsay B. Garvin
---
8 bars with is a series on educated guesses where we offer up 8 questions to a special guest for them to ponder and freestyle on.  The questions aren't necessarily questions as much as they are prompts or linguistic ink blots meant to stimulate thought.  The responses can be short and pithy, long and loquacious or somewhere in between. 
---
Allyson Wynn is the founder and Lead Event Planner for The Wynning Experience. The Paducah, KY native experience and expertise lies in project management, consumer-focused promotion, and strategic execution. Throughout her career, Allyson has excelled in bringing brands to life. She consistently demonstrates the ability to build bridges between consumers and their preferred brands. Her clients include The Coca-Cola Company; Anheuser-Busch, Inc.; the City of Mobile; The Children's Health Fund; and University of Pittsburgh Medical Center, to name a few.
Allyson honed her craft working on large-scale projects such as the Essence Festival, Billboard Music Awards, Oprah Live Your Best Life Tour, and the National Football League Super Bowl. In addition, her passion for event planning earned her national recognition and an acknowledgment by her peers and professional organizations.
She is the proud mother of two adult sons, Bradford and Nigel and is married to radiation oncologist, Dr. Raymond Wynn.
---
1. Quilt City?
It is the fabric of who I am. The town that raised me. The people that shaped me and the place that I will always call home. It is 8th of August, Nelson Park, Southside, Northside, Rowlandtown, Tobalo's, Brickhouse, Blackburn Park, Starnes BBQ, and 7th & Adams all rolled into one. 
2. Essence?
Two things come to mind, the core of a person and summertime in New Orleans.
3. Wynning?
It is what I do. The Wynning Experience is a full-service hybrid, virtual and in person event production agency. We bring events to life!
4. #BoyMom?
Joy. Bradford and Nigel's mom!
5. Dance Fever?
I do not have it. I have literally been doing the same side-to-side dance my entire life, so dancing is not a thing for me and thank God I do not have a fever.
6. Quarantine Queen?
Not by choice. Like everybody in the world, I want the quarantine to be over. It is incredibly sad and unfortunate that so many people have died and been impacted by COVID-19. Quarantining has provided time to examine my thoughts and feelings. My prayer is that when we get on the other side of this virus, we will not only be healed from the disease, but hopefully on the road to healing the ills of our society.
7. Bad, Barefoot and Bougie?
Interesting bar… It appears the word bougie has a few different meanings based on who you ask. I own a "sorta bougie" t-shirt. It is fun to wear and folks are always commenting on it. However, I am not a label kind of girl, I like what I like. If drinking champagne when I am thirsty while barefoot makes me bad and bougie, oh well.
8. Peloton?
Oxymoron 😊 sweet misery, terribly good!
---
#EG-8barswith